"There are issues crushing the middle-class, so I ought to do something about it"
A pandemic, a mother fighting pancreatic cancer, the never-ending struggles of running a small business, and the daily demands that come with raising a family, Suzette Martinez Valladares picked a most challenging time to serve in the State Assembly. But, as she discusses in an NFIB California podcast, the time to do something to help save her state was too great to put off for another day.
"I didn't want to run for office … but I ultimately decided to run for office for someone by the name of Charlotte, which is my four-year-old daughter," said Valladares. "California is home for me, it's home for her. Unfortunately, it's getting harder and harder for middle-class families to live and thrive in California.
"Whether it's affordability, the price of gas, energy, a lack of affordable housing, these are issues crushing the middle-class. And my family, on my dad's side, came here 100 years ago … for opportunity. That middle-class dream is being crushed and my family is starting to move … They've moved to Colorado, to Texas, they've moved to other states that are more middle-class friendly—and I don't want to move. California is home, it's home for me and my family, and my four-year-old daughter Charlotte, and my husband, so I decided that if I didn't want to move, I ought to do something about it and that meant running for office, running for the State Assembly."
By working across the legislative aisle, Valladares has succeeded in advancing important legislation beneficial for all Californians, an amazing accomplishment for a freshman lawmaker in only her first year in office.
Assembly Bill 22 would institute universal pre-school, an issue Valladares has been working with both parties on for 10 years and which she claims is essential for middle-class growth and stability
Assembly Bill 217 would institute a sales tax holiday to help parents with expenses, which Valladares can attest to as the aunt to 21 nieces and nephews
Assembly Bill 91 would cut the Minimum Franchise Tax in half, a long-sought NFIB goal after eliminating it entirely.
The brakes were slammed on AB 91 and AB 217 by whether it is allowable under the federal CARES Act, a decision still being considered by Washington D.C. policymakers as of this story's publishing.
Other issues on Valladares's radar include:
Getting the Employment Development Department (EDD) to better serve her constituents
Wildfire mitigation
Affordable housing
Workforce shortage.
Valladares ended the podcast by discussing how important it is for small-business owners "to reach out to your legislator, engage, share your stories, speak up."
Click the graphic below to listen to the podcast. And click here to listen to all previous podcasts.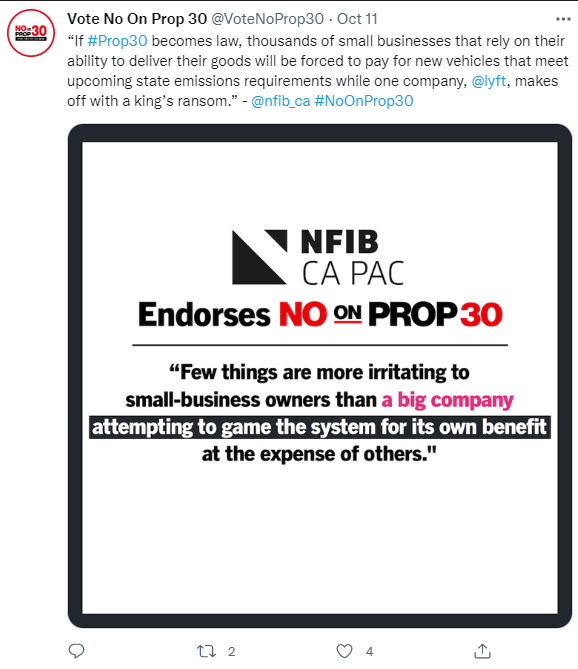 NFIB California thanks its sponsor of theses podcasts: