Latest Tax News for Small Business
Tax Increase and Mandate Proposals in Washington Could Break the Small Business Recovery
An American recovery depends on the small business recovery. To protect America's small businesses from new proposed taxes and mandates that could break the fragile small business recovery, NFIB is leading the Small Business Survival campaign.
Congress continues to consider the following harmful tax increases and new mandates for small business:
Imposes a new 3.8% "Small Business Surtax" on business income earned by S corporations, partnerships, and LLCs
Mandating a comprehensive and inflexible four-week federal paid family and medical leave program beginning in 2024
More imposing than doubling the federal minimum wage to $15 an hour
Increasing legal liability by making legitimate business-related pay differences difficult to defend in court and allowing unlimited damages  
As the U.S Senate considers the Build Back Better Act, it may change considerably but thanks to the advocacy of small business owners, the following tax hikes and mandates were removed from the House-passed version of the legislation:
Raising the corporate tax rate from 21% to 26.5%
Raising the top income tax rate on individually- and family-owned businesses from 37% to 39.6%
Expanding the estate tax's reach
Increasing the top capital-gains tax rate from 23.8% to 28.8%
Enacting elements of the Protecting the Right to Organize (PRO) Act
Mandating that small businesses with more than 5 employees provide paid sick leave and retirement accounts
  Tax Relief for Small Businesses:
In 2017, NFIB and others worked with Congress to provide significant tax relief for small businesses. A survey on these tax changes confirmed that the overwhelming majority (78%) of small business owners believe the 2017 tax relief had a positive effect on the economy, prior to the COVID-19 pandemic. 
Small Business Deduction
The centerpiece of the pro-small business tax changes is Section 199A, the Small Business Deduction. Approximately 75 percent of NFIB members are organized as pass-throughs (S corporations, LLCs, sole proprietorships, or partnerships), not as C corporations.
Pass-through business owners (S corporations, LLCs, sole proprietorships, or partnerships) – regardless of the type of business they own – can claim up to a 20% tax deduction on their share of the business's income up to $170,050 in tax year 2022, or $340,100 for those filing jointly. For small business owners whose qualified business income exceeds the threshold, the deduction is subject to formulaic limitations. You can still benefit from the deduction if your business is employee intensive, or you make capital expenditures.
More than 81% of small business owners believe the Small Business Deduction is important to the health of their business. However, without additional congressional action, this important small business provision is scheduled to expire after 2025 alongside other helpful tax benefits. Read more about the Small Business Deduction here.
The Main Street Tax Certainty Act makes this critical deduction permanent. Please ask your Representative or Senators to co-sponsor this crucial legislation and be an advocate for small business tax relief. 
Standard Tax Deduction
In 2018, the standard deduction nearly doubled to simplify filing taxes for Americans. For tax year 2022, the standard deduction is $12,950, or $25,900 if you're filing jointly.
Family and Medical Leave Tax Credit
The TCJA provides eligible employers who offer paid family and medical leave to their employees a tax credit for tax years 2018 and 2019. The Consolidated Appropriations Act of 2022 (CAA) extends this helpful credit through 2025. Additional information from the IRS is available here.
Watch the 2022 NFIB Tax Summit
---
See If You Benefit From the Small Business Deduction
Click to view the full-size flowchart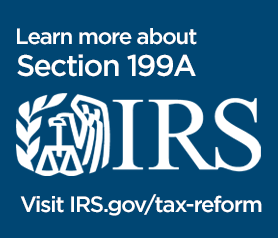 Have questions about Section 199A?
Visit IRS.gov/tax-reform
Get the Facts!
Our infographic below details how the 20 percent deduction means big savings for small business.
Click to view full-size infographic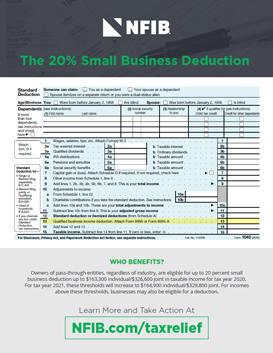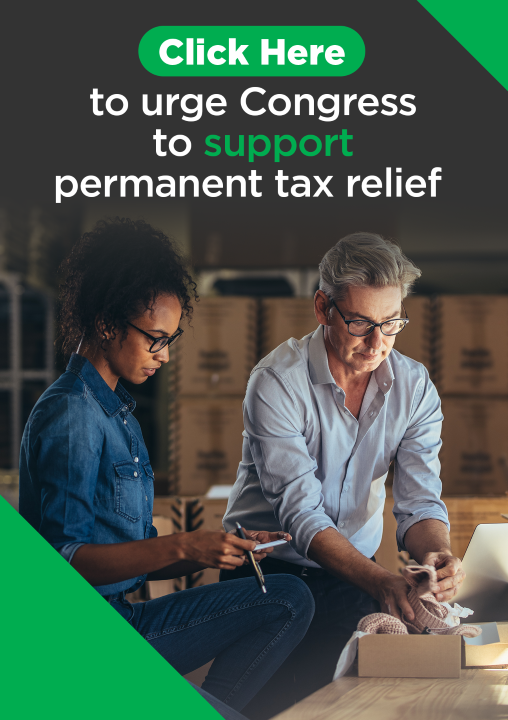 Click to view full-size infographic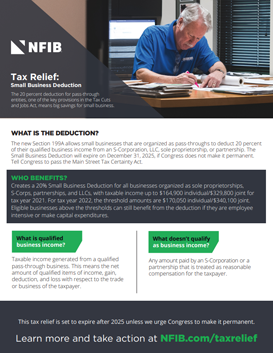 Top 5
Tax Cut Wins