Latest Tax News for Small Business
Right now in Washington, D.C., federal policy proposals are positioning some small businesses, family-owned businesses and farmers for an even greater tax burden.
The latest plans include:
A new death tax for Family-owned businesses.
A long-standing part of the tax code known as the stepped-up basis would be repealed in Washington's latest spending plan. Without it, the IRS will calculate the value of something that's inherited – like a building or farmland – very differently. A study published in April 2021 by the Family Business Estate Tax Coalition (FBETC), found this change would lead to 800,000 fewer jobs in 10 years and an additional 100,000 fewer jobs each year thereafter. With the proposed repeal of the stepped-up basis, family members who inherit something when a family business partner dies, such as a building or farmland, would need to pay capital gains taxes on it. Additionally, the Administration's proposal would nearly double this capital gains tax rate to 43.4%. These two changes have the power to prevent family-owned businesses from adding jobs and further investing in their employees as they plan for expected tax bills. Not only that, surviving family members may be forced to close or sell their family's business to cover the larger tax bill.
Tax rate increases. And for some of the smallest: a nearly doubling of their 2017 rate.
Small businesses organized as C corporations would see their tax rate increase to 28%. For the smallest C corporations, those making less than $50,000 in taxable income per year, the new rate would be an especially dramatic increase – nearly doubling the rate they paid just a few years ago. Still other businesses – those organized as pass-through businesses – may see tax increases when business earnings are become taxed at a higher rate. America's small businesses are the third-largest economy in the world and absorbing a dramatic tax increase would mean less to reinvest in growth, jobs, hiring, training, and benefits for employees.

  COVID-19 Recovery Tax Provisions:
Several new tax provisions have been added for small businesses, as a part of the federal response to the COVID-19 pandemic. These benefits include:
Extended paid leave credit: The Family First Coronavirus Relief Act (FFCRA) permits employers to provide up to 80 hours of paid sick leave and up to 12 weeks of paid family leave to those affected by COVID-19. Through Sept. 30, 2021, employers can offset the costs of paid sick and family leave against payroll taxes.


Extended family leave and sick leave credit: Many business owners choose to provide employees the flexibility to take time off to care for themselves and their family. Through Sept. 30, 2021, small business owners have the opportunity to take care of themselves as well by receiving a tax credit for providing paid leave to their employees.
Employee Retention Tax Credit (ERTC): The ERTC program has been extended through December 31, 2021, offers a more generous tax credit, and eliminates a previous restriction for those with a Paycheck Protection Program (PPP) loan.
Tax Relief for Small Businesses:
In 2017, NFIB and others worked with Congress to provide significant tax relief for small businesses. And a survey on these tax changes confirmed that the overwhelming majority (82%) of small business owners believe the 2017 tax relief had a positive effect on the economy, prior to the COVID-19 pandemic. 
Small Business Deduction
The centerpiece of the pro-small business tax changes is Section 199A, the Small Business Deduction. Approximately 75 percent of NFIB members are organized as pass-throughs (S corporations, LLCs, sole proprietorships, or partnerships), not as C corporations.
Pass-through business owners (S corporations, LLCs, sole proprietorships, or partnerships) – regardless of the type of business they own – can claim up to a 20% tax deduction on their share of the business's income up to $164,900 in tax year 2021, or $329,800 for those filing jointly. For small business owners whose taxable income exceeds the threshold, the deduction is subject to formulaic limitations. You can still benefit from the deduction if your business is employee intensive, or you make capital expenditures.
More than 81% of small business owners believe the Small Business Deduction is important to the health of their business. However, without additional congressional action, this important small business provision is scheduled to expire after 2025 alongside other helpful tax benefits. Read more about the Small Business Deduction here.
Standard Tax Deduction
In 2018, the standard deduction nearly doubled to simplify filing taxes for Americans. For tax year 2021, the standard deduction is $12,550, or $25,100 if you're filing jointly.
Expensing Equipment
Small business owners were already able to immediately deduct some of the costs of equipment purchased for use in their business. The maximum deduction in tax year 2021 is $2,620,000. Unlike other tax relief,  Section 179 is permanent.
Eligible assets that depreciate over time are now eligible for "bonus expensing" where instead of expensing a fraction of the price per year of use, you can expense the entire purchase at once. The maximum bonus expensing limit is $1,050,000. Bonus expensing phases out in 2024.
Family and Medical Leave Tax Credit
The TCJA provides eligible employers who offer paid family and medical leave to their employees a tax credit for tax years 2018 and 2019. The Consolidated Appropriations Act of 2021 (CAA) extends this helpful credit through 2025. Additional information from the IRS is available here, although at the time of this writing, the IRS webpage has yet to be updated to reflect the new CAA extension.
See If You Benefit From the Small Business Deduction
Click to view the full-size flowchart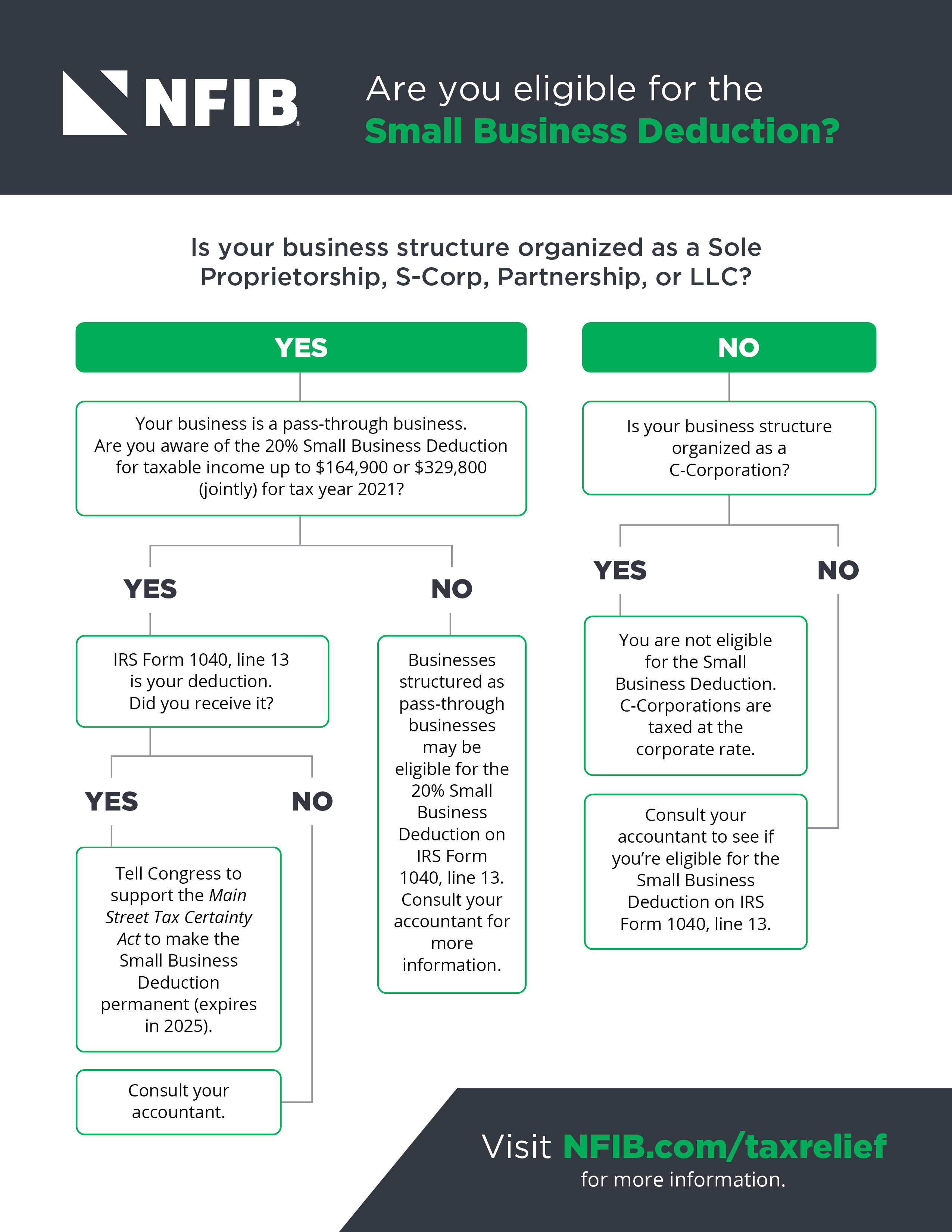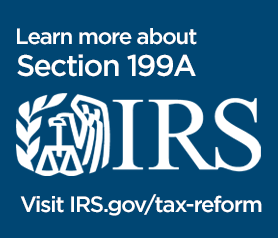 Have questions about Section 199A?
Visit IRS.gov/tax-reform
Get the Facts!
Our infographic below details how the 20 percent deduction means big savings for small business.
Click to view full-size infographic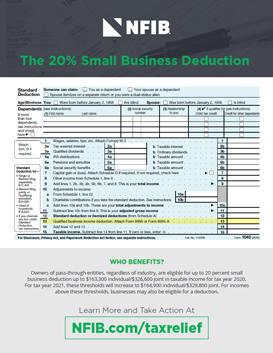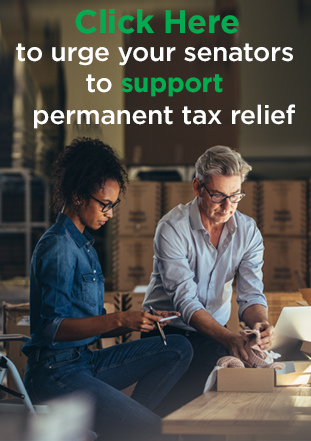 Tax Relief Continues to Help Small Business Thrive!
Click to view full-size infographic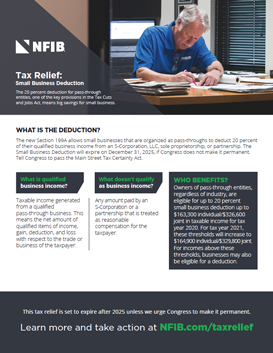 Top 5
Tax Cut Wins