Labor
Small business owners know that employees are their most valuable resource. Small business owners work hard to train and retain employees by creating a rewarding workplace. Finding qualified employees has been small business owners' top business problem since 2019. However, government mandates and regulations have made labor issues and the ability to fill open positions more complicated than ever.
Small businesses operate differently than large businesses; they do not have human-resources departments to track the changing standards and rules that affect their workforce and workplace.
NFIB urges Congress to eliminate burdensome mandates and prevent cumbersome regulations that inhibit job creation.
Paid Sick Leave and Paid Family Leave
Multiple proposals before Congress would mandate paid sick leave and paid family medical leave mandates on small businesses. The Build Back Better Act contains an inflexible four-week federal paid family leave program that would pose challenges to small employers trying to manage and maintain their workforce.
Other proposals would mandate ten days of paid sick leave and up to 12 weeks of paid family and medical leave on all employers, similar to the temporary requirements from the Families First Coronavirus Response Act (FFCRA) of 2020. These requirements are unfamiliar to smaller employers with fewer than 50 employees who are not currently subject to the unpaid leave mandates of the Family and Medical Leave Act.
The PRO Act will significantly restrict the rights of small business owners to contract freely, compromises the privacy of millions of Americans, and exposes small businesses to costly boycotts and protests.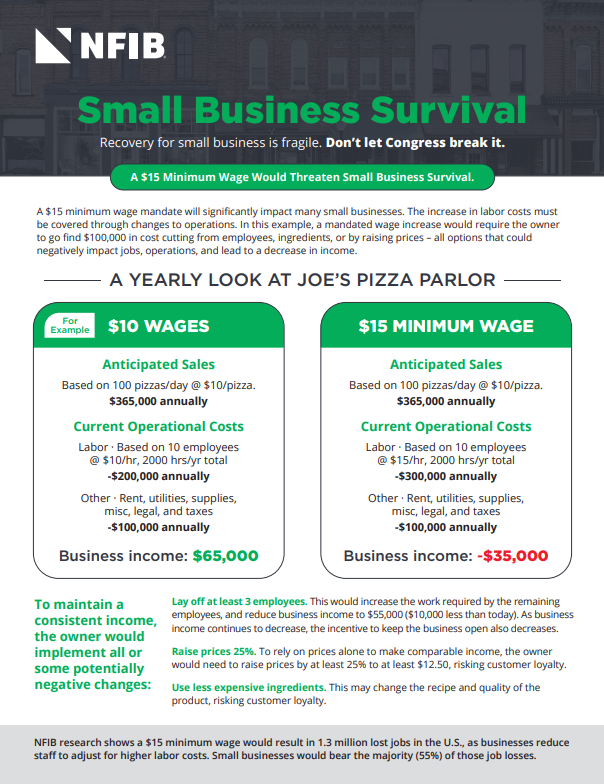 Small business owners know that more than doubling the federal minimum wage would lead to increased labor costs and tough choices. They must either increase the cost of their product or service or reduce labor costs elsewhere. The reduction in labor costs would be achieved through reduced jobs, reduced hours, or reduced benefits.
NFIB opposes the Raise the Wage Act because 92 percent of NFIB members opposed an increase in the federal minimum wage to $15.00 per hour by 2024 and annual increases in subsequent years in a recent member ballot. In March 2021 the Raise the Wage Act was considered in the U.S. Senate as an amendment to the American Rescue Plan Act and the amendment was rejected in a vote of 58-42.
Independent Contractor Classification
It can be difficult to determine whether a worker should be classified as an "employee" or an "independent contractor," but it is an important distinction to make to avoid fines and legal challenges. For small businesses that don't have the same resources as larger corporations, this can be even more difficult when there are not clear rules for classification.
The U.S. Department of Labor (DOL) is proposing to revoke the current 2021 rule that gives greater weight in determining independent contractor status to control over the work and opportunity for profit or loss. The new rule would make it more difficult for businesses to classify workers as independent contractors.
NFIB supports the protection of, and efforts to further secure, the right of individuals to work as independent contractors and for business owners to choose to lawfully classify workers as independent contractors. NFIB submitted a comment on the proposed DOL rule during the public comment period. To learn about the latest action on this issue, click here. You can learn more about how to determine a worker's classification in NFIB's Legal Guide.
Overtime
The U.S. Department of Labor (DOL) is considering a proposal to increase the overtime exemption threshold. The overtime rule, part of the Fair Labor Standards Act, dictates that employees must receive overtime pay of at least time and a half for hours worked over 40 in a workweek. The current threshold is $35,568 annually and experts anticipate DOL might increase the threshold to over $50,000 annually. This means that if the threshold increases, all employees earning under the new threshold amount would be eligible for overtime pay. NFIB opposes an effort to expand overtime eligibility as increasing the threshold would be disruptive and challenging economically for small businesses.
Get the Facts!
Our infographic below details how the $15 Federal Minimum Wage impacts small business.