What's at Stake
The balance of the United States Senate hinges on the two Georgia U.S. Senate runoff elections that will be held on Tuesday, January 5, 2021. The contrast between the candidates and where they stand on small business issues could not be more clear.
Lower taxes or higher taxes ● Less red tape or more regulations ● Relief for small businesses or continued uncertainty during the COVID-19 crisis.
Small business is on the ballot. Make your voice heard.
Important Dates
Election Day:
January 5, 2021
Absentee Voting:
November 18, 2020
(first day ballots can be mailed to voters)
Voter Registration Deadline:
December 7, 2020
In-Person Early Voting Begins:
December 14, 2020
General Election Runoff
Senator David Perdue (R) v. US Sen. Candidate Jon Ossoff (D)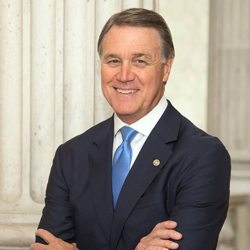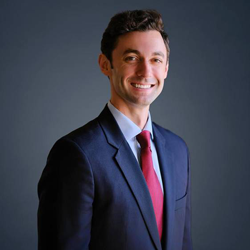 Taxes
Senator David Perdue
Voted for historic tax relief, which created the Small Business Deduction (up to 20% deduction for small business owners) and lowered individual tax rates.1
Supports eliminating the estate tax.2
US Sen. Candidate Jon Ossoff
States he would lower taxes for all but the wealthiest Americans.3
Proposes making tax and regulatory compliance simpler and more efficient for businesses.4
Labor
Senator David Perdue
Minimum Wage: Opposes raising the federal minimum wage.5
Right-to-Work Position: Supports nation right-to-work legislation7
Liability Protections: Supports liability protections for small businesses to keep workers employed and their doors open.9
US Sen. Candidate Jon Ossoff
Minimum Wage: Supports raising the federal minimum wage.6
Right-to-Work Position: Supports legislation that would repeal Georgia's right-to-work law and allow card checks.8
Paid Leave Views: Supports mandating paid sick leave.10
COVID-19
Senator David Perdue
Voted for the CARES Act, which provided forgivable Paycheck Protection Program (PPP) loans to small business owners who were shut down due to the pandemic.11
PPP loans provided to over $14 billion to over 174,000 GA small businesses.12
Supported second round of targeted PPP small businesses.13
US Sen. Candidate Jon Ossoff
Supports fast and generous direct emergency relief, including sending generous emergency cash to tide over people and businesses.14
Supports strong social distancing policies now and shelter-in-place orders, where necessary.15
Get Involved
Special Election Runoff
Senator Kelly Loeffler (R) v. Raphael Warnock (D)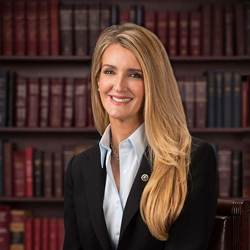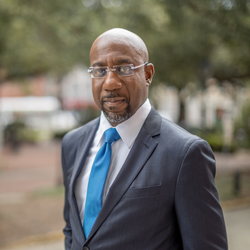 Taxes
Senator Kelly Loeffler
Supports making tax relief for working- and middle-class families permanent.16
Supports the repeal of the estate tax.17
US Sen. Candidate Raphael Warnock
Would revoke tax breaks for companies that outsource jobs and supports made-in-America incentives.18
Would fight to oppose tax breaks that benefit the richest of the rich.19
Labor
Senator Kelly Loeffler
Supports liability protections for small businesses to keep workers employed and their doors open.20
Supports national right-to-work legislation.21
US Sen. Candidate Raphael Warnock
Supports raising the minimum wage.22
Supports legislation that would repeal Georgia's right-to-work law, allow card check and secondary boycotts, and implement strict tests for independent contractors.23
COVID-19
Senator Kelly Loeffler
Voted for the CARES Act which provides forgivable Paycheck Protection Program (PPP) loans to small business owners who were shut down through no fault of their own due to the pandemic.24
PPP loans equate to over 14 billion dollars in direct assistance to over 174,000 Georgia small businesses.25
US Sen. Candidate Raphael Warnock
Supports transparency around economic development programs and the Paycheck Protection Program.26
Regulatory Agenda
Senator Kelly Loeffler
Supports assisting small businesses to help them survive these challenging times, keep employees on payroll and create jobs. A key component to that is removing regulatory barriers and incentivizing job creation.27
US Sen. Candidate Raphael Warnock
Would fight against burdensome regulations on small businesses.28
Get Involved