Says his business and many others would be devastated by Regional Greenhouse Gas Initiative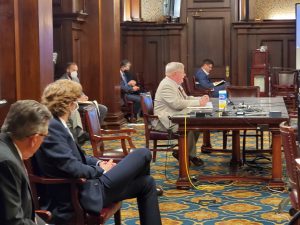 HARRISBURG (Aug. 24, 2020) – Walter Schroth, the third-generation owner of a wood products company in Indiana, Pennsylvania and an NFIB member, testified at a House hearing in the Capitol on August 24 against Pennsylvania joining the multi-state Regional Greenhouse Gas Initiative (RGGI). Schroth told lawmakers that the cap and trade program would place massive additional costs on natural gas and coal suppliers that his company and many other Pennsylvania small businesses serve, resulting in extensive job losses and widespread economic harm.
NFIB has opposed Governor Tom Wolf's plans to join RGGI, believing that program will hike energy prices not only for small businesses and in particular small manufacturers, but for every energy consumer in the state. It is also greatly concerned about the economic impact on small businesses and the loss of jobs when the program will produce little or no benefit to air quality.
Governor Wolf has expressed his intent to join RGGI through an administrative process even though many lawmakers have said they oppose such an action. There is a bill pending in the General Assembly that would require legislative approval.