His leadership has been fiscally sound with balanced budgets and no new taxes
The following news release was issued on Oct 27, 2020:
The National Federation of Independent Business (NFIB), the leading small business association in New Hampshire and across the nation, announced its NFIB NH PAC had endorsed Chris Sununu for governor in next Tuesday's General Election. The announcement took place at RP Abrasives, a small business in Rochester, New Hampshire at 9 a.m.
"Small businesses have thrived under the leadership of Governor Chris Sununu who balanced the state budget during his four years in office, added no new taxes, and even reduced the existing business tax," said NFIB's Assistant State Director in New Hampshire, Simon Thomson. "The Governor understands that you can't spend more than you have and that supporting small businesses is the best way to energize the state economy and create more jobs for Granite Staters."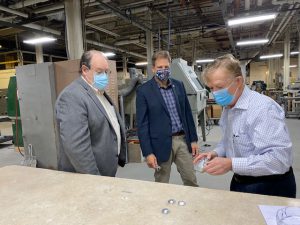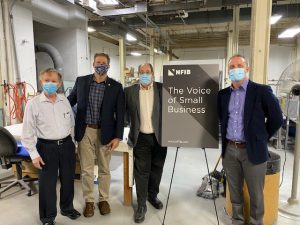 "Small businesses can't grow or expand when policymakers tie their hands behind their back with numerous regulations and government mandates, but as Governor, Chris Sununu has reduced those burdens by cutting regulations and stopping legislation that would do great harm to the small business economy," added Thomson. "I dare say that if Governor Sununu was not in the corner office these past four years, the State of New Hampshire would have higher taxes, more regulations and greater operating costs to endure, much like a certain Commonwealth just south of our border. New Hampshire's small business community needs and wants him to continue with his strong stewardship of our economy for the next two years."
"Before the national economic crisis wrought by Covid-19, New Hampshire had the fastest growing economy in New England and one of the lowest unemployment rates in the country. With his leadership, we are recovering much more quickly than other states," said Thomson.  "Governor Sununu's decisive and swift actions have saved thousands of jobs and hundreds of small businesses while enabling countless families in the Granite State to maintain a semblance of normalcy during this trying time"
The endorsement of Chris Sununu for governor comes from the NFIB NH PAC, the association's state political action committee and is driven by members of the small business community. 
Small-business owners and their employees vote in high numbers and are known for actively recruiting friends, family members, and acquaintances to go to the polls. NFIB will encourage over 1400 of its business members in New Hampshire to help turn out the small-business vote for NFIB New Hampshire PAC-endorsed candidates in the General Election.