The NFIB staff in Ohio advocates for our 22,000 members at the Ohio Statehouse on issues impacting their ability to own, operate, and grow their businesses. When we are talking about issues such as workers' compensation, unemployment compensation, government spending, and taxes, it is so important that we have the ability to discuss these topics with legislators who have an understanding of the complexities of Ohio's economy and the impact they have on our state's economic vitality. That is why we are heavily involved in the election process.
NFIB monitors races in Ohio year-round to follow their likely impact on Ohio's small business community, and to determine where the best opportunities are for us to make a difference. The scope of our research ranges from individual candidates to the larger state political environment.
A message on the importance of small business owners voting from Roger Geiger, Executive Director for NFIB in Ohio: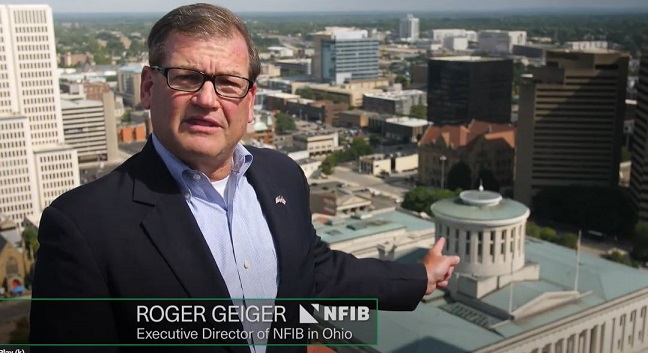 Due to limited resources, we cannot be involved in every race; instead, we focus our efforts on select statewide races, statehouse districts, and ballot initiatives that impact the business community. Key races, as determined by NFIB, are the political campaigns whose outcomes hold the largest stake for Ohio small-business owners.
Key elements in NFIB's involvement in Ohio races include:
Voter education;
Voter registration and early voting;
Grassroots mobilization;
Media campaigns;
Direct candidate support.
VOTER EDUCATION
Educating small-business owners and their employees is one of our top priorities. It is especially important in heavily contested races, to cut through the clutter and educate and activate the small-business voting bloc, by providing timely, non-partisan, and accurate voter information. Throughout the election cycle, we distribute a comprehensive series of direct voter communications to our members including where candidates stand on the issues that affect their bottom line, suggestions on how to speak to your employees about elections, and issue briefs.
VOTER REGISTRATION AND EARLY VOTING
NFIB understands running a business is demanding and can prevent members from becoming as involved in politics as they would like. That is why we place a major emphasis on helping business owners vote. Furthermore, early voting is an incredibly helpful way for busy small business owners to make their voices heard without being constrained to vote on one single day. Therefore, we also place a special emphasis on informing members about early and absentee voting deadlines.
GRASSROOTS MOBILIZATION
NFIB is a grassroots-driven organization. In selecting candidates to support, we conduct a thorough member-driven process involving collecting candidate voting records on small business issues, candidate questionnaires to ascertain where they stand on issues important to our members, district surveys, and candidate interviews. We make no endorsement without the support of our members in Ohio.
Once we have determined to support a candidate, we help mobilize our members to support them. It is the power of individual members, who come together as a whole, that has the largest impact on the elections and policies that affect small business. We emphasize grassroots mobilization in key races through get-out-the-vote member communications, coordinating volunteer opportunities with endorsed candidates in the lead up to Election Day.
Also, our 20 Area Action Council across the state allows us the opportunity to bring candidates directly to our members to answer questions and let them get to know just who they are casting their votes for. These Area Action Council have helped elect over 25 members of NFIB to the Ohio Legislature.
MEDIA CAMPAIGNS
NFIB recognizes small businesses are the backbone of our economy, and in some highly competitive races, we extend our advocacy to a much larger audience through mass media campaigns. We have experience with reaching like-minded voters through broadcast, online advertising, cable, radio, and newsprint.
DIRECT CANDIDATE SUPPORT
In addition to our grassroots and other political advocacy efforts in Ohio, NFIB provides direct assistance to endorsed candidates. Through the NFIB Ohio PAC, we provide financial support and create opportunities for candidates to interact with our members. Additionally, NFIB acts as an educational resource for candidates who wish to further their understanding of small business issues.
Over the years, NFIB in Ohio has grown and developed our political and grassroots programs to be among the most effective and recognized among Ohio's business community. Our history of success has made NFIB's support highly sought after by candidates as they recognize our grassroots network can be a key to a successful campaign. Ohio is a recognized leader around the country as having some of the most active members within NFIB. YOU understand the importance of getting involved!