For the legislative and political week May 30-June 3
Good Memorial Day to you. NFIB joins its fellow Americans in honoring those who suited up to serve our nation but never made it back.
Welcome to the May 30-June 3 edition of the NFIB California Main Street Minute from your NFIB small-business-advocacy team in Sacramento.
Another Big Legislative Deadline Passes
Friday, May 27, was the last day for bills to pass out of their chambers and over to the other house. Those failing to do so are now dead for the year.
The following is an update on the bills of importance to small business mentioned in last week's Main Street Minute that successfully hurtled over the May 20 deadline wall.
We'll start with the bad news first.
Passing the Senate and sent to the Assembly were:
Passing the Assembly and sent to the Senate were:
Passing the Assembly and sent to the Senate were:
Assembly Bill 2164, which would provide small businesses with a financial pathway to become more accessible to the handicapped.
Assembly Bill 1949 was to have been included in the bad news section above, but stringent business opposition has succeeded in taking the teeth out of it. It would have added yet another reason for requesting leave time: bereavement.

Mixed news
Failing to pass the Assembly and dead for the year are:
Assembly Bill 1920, which NFIB supported, and which would provide tax credits for supplemental COVID leave. If it is to happen at all, it would likely be part of the state budget.
Assembly Bill 2289, which NFIB opposed and which would have eventually reached deeper into the pockets of small-business owners to make up for lost state revenue because of a new wealth tax on high earners that would entice some of them to leave California.
Assembly Bill 2570 continues to be a budget item. NFIB is part of a group making calls and having meetings with key budget legislators to obtain more than Gov. Gavin Newsom's $1 billion he has proposed as a down payment toward the state's outstanding unemployment insurance trust fund debt that it has with the federal government.
Update
Assembly Bill 257, which calls for completely upending the fast-food franchise model in California and replacing it with a new state agency that would set wages and working conditions, still awaits action by the Senate Labor committee after passing the Assembly 41-21.
Grand Medical Malpractice Deal Signed into Law
As reported in the May 16-20 Main Street Minute, 50-Year War Coming to an End, the half century battle between competing parties over medical malpractice awards was approaching an end.
The end came last Monday (May 23) when Gov. Gavin Newsom signed Assembly Bill 35 into law, which was "supported by consumer groups, trial attorneys, health care insurers, and health care providers – marking the end to one of the longest running political battles in California politics," according to a news release issued by the governor's office.
As a result of the grand bargain, there will be no medical malpractice initiative on the November ballot.
A New Assembly Speaker this Week?
"California's State Assembly could soon see a change in leadership," reports The Sacramento Bee. "Assemblyman Robert Rivas, D-Salinas, on Friday announced that he has the votes to dislodge Assembly Speaker Anthony Rendon, D-Lakewood, from the top Assembly spot.
"According to a statement from Rivas' office, the assemblyman has built a coalition of support that includes the leadership of the Latino, API, LGBTQ, Womens', Jewish and Progressive Caucuses, 'as well as significant support from members of the Black Caucus.' Rivas said he met with Rendon on Friday morning to discuss the transition of power; no timeline has been given, and there is yet to be a formal vote to name Rivas speaker."
One Day Left to Act
If you're reading this Main Street Minute today, May 30, this is the last day to send the California Air Resources Board your comments on its Climate Change Scoping Plan, "which will have a profound impact on all Californians, dictating how they must run their businesses, what cars they can drive, where they can live, and what stove they can cook with. Life as we know it in California will be altered going forward," according to an Action Alert on the NFIB California webpage, which you can read here. There is a link that will take you to the page to leave a comment.
NFIB in the News
Karen Harned, executive director of the NFIB Small Business Legal Center, commented to the Southern California Record about a case brought by the district attorneys of San Francisco and Los Angeles counties against a law firm practicing shakedown lawsuits for ADA violations.
"There have been judges over the last 10 years who have tried to stop this, but it has become a cottage industry and especially in California because the PAGA law makes it an easy formula," she said.
National
Last Monday (May 23), Kevin Kuhlman, NFIB's senior vice president for federal government relations, took to the airwaves to discuss inflation, recession, and other economic trends swirling around small business. Check out his appearance on CSPAN's Washington Journal here.
This Thursday, June 2, NFIB will release its latest Jobs Report.
Next Main Street Minute June 6.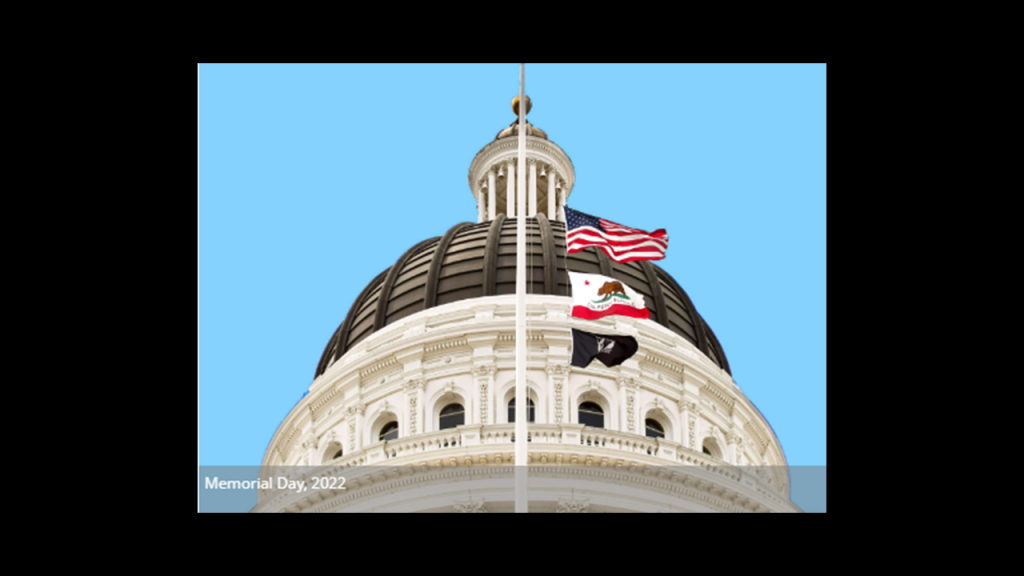 Photo snip courtesy of the California State Senate website