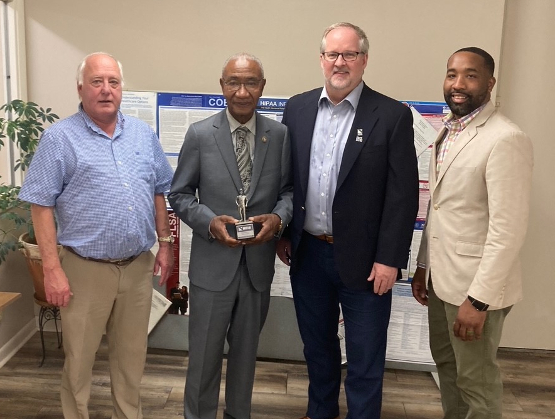 The Tennessee office of NFIB, the nation's leading small business advocacy organization, today presented its coveted Guardian of Small Business award to state Rep. Johnny Shaw (District 80).
"Representative Shaw had an excellent NFIB Voting Record in 2021-22 and was exceptionally supportive on key NFIB issues during the pandemic," NFIB State Director Jim Brown said.
The Guardian of Small Business award is the most prestigious honor that NFIB bestows on legislators in recognition of their efforts to support small business. The NFIB Tennessee Leadership Council, an advisory board comprised of NFIB members, voted to present the award to Representative Shaw for his outstanding leadership on small business issues. NFIB member Jerry Barrix with Wade Electric Co. and other area leaders joined Brown in making the presentation in Jackson this afternoon.
"Johnny Shaw not only is one of the most respected members of the Tennessee General Assembly but also a big supporter of small business in his district and across Tennessee," Brown said. "His leadership on the Finance, Ways & Means, and Agriculture & Natural Resources subcommittees and on the full committees has been very helpful in creating a stable, predictable business environment in Tennessee. He is passionate about crafting reasonable, fair policies for all Tennesseans, and he's been instrumental in negotiating important legislative compromises in state labor law."
Shaw said, "I'm very honored to receive the NFIB Guardian of Small Business award. Small businesses are the engine of Tennessee's economy, and it's essential that we do all that we can to promote their success, which benefits job creation in my district and strengthens our communities statewide. I look forward to working next year on new policies to continue helping entrepreneurs flourish in West Tennessee."