Explains government restrictions can cause economic harm to owners and employees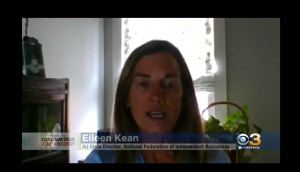 TRENTON (Aug. 1, 2020) — NFIB's State Director in New Jersey, Eileen Kean, has been speaking out about the impact of Governor Phil Murphy's Executive Orders on New Jersey's small businesses throughout the pandemic. Overwhelmingly, small businesses want their customers and employees to remain safe during the current health threat, but sometimes government mandates on small business operations cause great financial harm, and we want to be sure government leaders are aware of that impact when they make policy decisions. We hope there can there are ways the health and safety of the public can be preserved, while still minimizing the economic harm on our members.
At the beginning of the business shutdowns, when many big box stores remained open and their small business competitors were forced to remain closed, NFIB asked in news releases why small shops selling some of the same products couldn't also open if all health protocols were implemented and guidelines followed.
Later, when some counties had very few cases of COVID-19 and other areas were virus hotspots, we asked in statements why Governor Phil Murphy couldn't use a regional approach for reopening so at least some small businesses could be spared from failure. We argued that neighboring states had used that approach. The New Jersey legislature would later hold a hearing on a regional reopening process.
And just this week, when Governor Murphy finally allowed small restaurants to open indoors after five and half months surviving on carryout and outdoor dining, Kean was at it again. She put out quotes explaining that opening at 25% capacity was certainly welcome, but it would not allow those restaurants to make a profit and climb back from near extinction.
During this time State Director Eileen Kean has been on television, radio, and quoted in the newspapers regularly. Thankfully, some New Jersey members have also been willing to do media interviews when we ask.
We work hard at NFIB in New Jersey to advocate on behalf of small business in the statehouse by tracking and testifying on legislation that impacts our members. But we also make sure government leaders, lawmakers, and the public, know exactly what's hurting or helping small business by speaking out in the media.