Grassley Affirms his Support for Iowa Small Business Owners
U.S. Senator Chuck Grassley visited NFIB member KLK Construction in Pella recently as part of his annual 99-county tour. Owner Barb Kniff hosted the Senator, educating him on the challenges that small business owners face right now in light of the COVID-19 pandemic, as well as other economic issues and frustrating government mandates.
Senator Grassley chats with KLK owner and NFIB member Barb Kniff (left) at her business in Pella. 
Sen. Grassley heard feedback from NFIB small business owners on topics such as the ongoing workforce shortage, paid leave mandates, and the frustrations of high taxes.
Recently, Sen. Grassley voted for a bill that will make a significant investment in Iowa's physical infrastructure – roads, bridges, and waterway, and broadband – about $1 trillion in federal spending. The "Infrastructure Investment and Jobs Act" passed the Senate with 69 votes and awaits consideration in the House, which is expected to consider the legislation by the end of September. NFIB member Barb Kniff owns KLK, a contractor involved in the telecommunications industry. Her small business is known as a leader in cable replacement within the utility construction market and works in the seven-state area with most of its work in Iowa. Kniff hopes to use the new funding to improve internet access across rural Iowa. "We here at KLK in Pella are grateful for Sen. Grassley's visit and his willingness to listen to and fight for small business owners."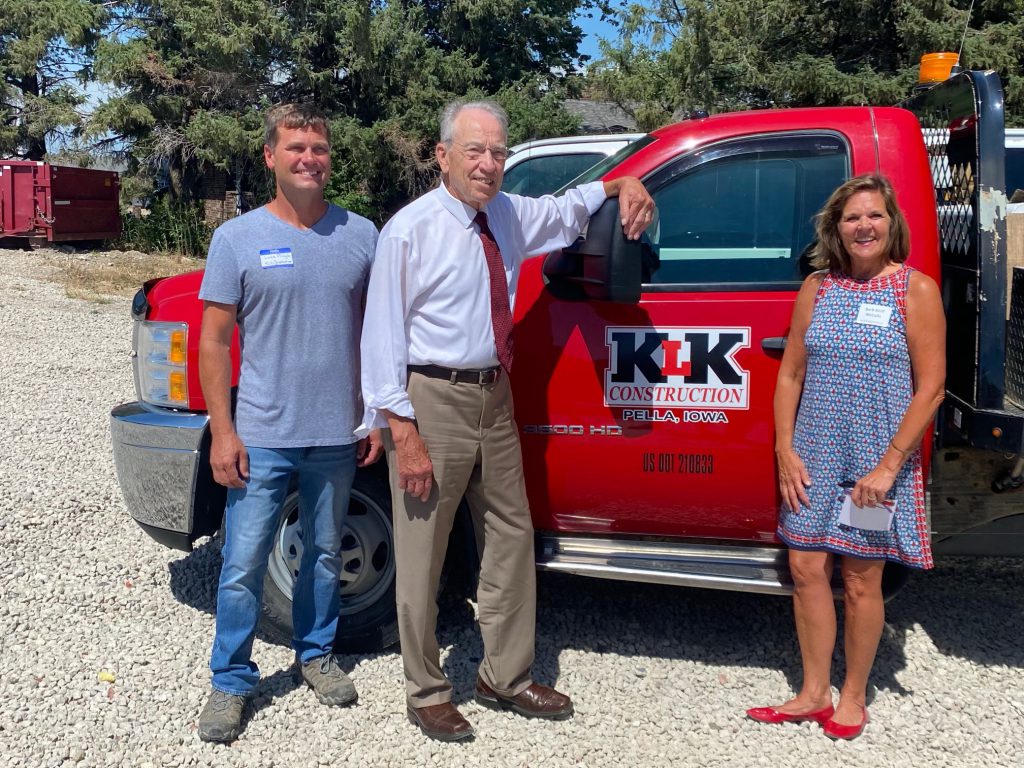 Sen. Grassley poses with Barb Kniff and one of her employees during a recent visit to her business,, KLK Construction in Pella.  
Also at the meeting was NFIB State Director in Iowa, Matt Everson. "It's great to see our elected officials get out and witness our hard-working small business owners doing what they do best: interact with their employees on their home turf. Our entrepreneurs are so busy keeping Iowans employed that many don't have time to keep up to date with what's happening in Washington D.C. NFIB is grateful to Sen. Grassley for taking the time to visit with our members and relay the latest happenings at the nation's Capital. Now, more than ever, small business owners need someone in D.C. at the table fighting for their values as they face challenges such as hiring qualified workers and getting people back to work."