NFIB, the nation's leading small business advocacy organization, presented its most prestigious legislative recognition, the Guardian of Small Business Award, to Rep. Ashley Hinson. 
"Ashley is a true champion to small business owners. During a time when many small business owners are struggling to stay open and keep their customers and employees safe during this unprecedented crisis, it's a big comfort for our Iowa small business owners to know they have supporters like Ashley standing up and advocating for them at the Iowa Capitol," said NFIB State Director in Iowa, Matt Everson. "Thank you, Ashley, for all that you do for our hard-working small business owners. People like you make it possible for our small business owners to focus on what they do best: create jobs for Iowans and keep Iowa's economy running."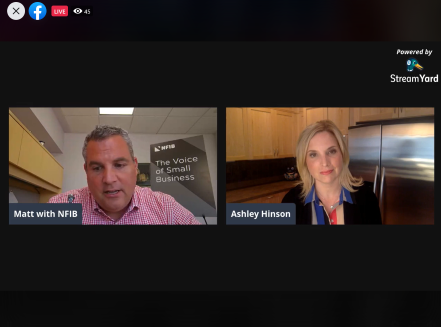 "I am grateful and proud to be a defender of small business. It does matter to Iowa families and it matters to Iowa workers. That's what I tried to go and fight for every day at the Iowa statehouse. The thing that we all like to point to is certainty in economic factors for small businesses. The tax cuts we passed here in the state of Iowa were aimed at the middle income earners and that allowed people who work at our small businesses and gave them certainty to be able to invest and grow their businesses," said Rep. Ashley Hinson.
NFIB's Guardian of Small Business Award is reserved for lawmakers who vote consistently with small business on the key issues identified by small business owners. Those who voted with small business on key issues 100% or more of the time during Iowa's 2019 and 2020 legislative session earned the NFIB Guardian of Small Business Award. NFIB informs lawmakers in advance which votes will be considered NFIB Key Votes and asks lawmakers to support the consensus views of our members. We also remind them that the results will be reported back to the NFIB membership.