NFIB State Director: Our Small Business Have Suffered Enough From Pandemic
NFIB, the National Federation of Independent Business here in Indiana, is urging lawmakers to pass sensible legislation that would reduce the tax burden on Hoosier small businesses who are already suffering from the continuing impacts of the COVID-19 pandemic. NFIB, which represents nearly 11,000 small business owners across the state, supported HB 1002, which was heard by the Senate Tax and Fiscal Policy Committee. The legislation would help entrepreneurs across the state by reducing the cost of purchasing and operating production equipment and machinery in Indiana. The bill would also reduce the individual income tax rate from 3.23% to 3%. This would benefit all taxpayers, especially small businesses that operate as pass-through entities and pay taxes at the individual rate.
State Director Natalie Robinson testified in support of the tax cut plan.
Here's why this bill matters to small business owners across Indiana:
In Anderson, John Raine of Raine Tactical Gear encourages legislators to let entrepreneurs make their own decisions on how to spend their own hard-earned money. Raine Tactical has been in business since 1986. John's small business was the first to produce gear with nylon and has been used in every military operation since Grenada. Their motto is to build a well-engineered product like a tank.
"What Indiana small business owners need right now is to have the flexibility to spend their income where it makes the most sense. Legislators need to understand that their local mom and pop entrepreneurs are the backbone of their community. They should trust that we will spend our money wisely, and what we need right now is to be able to invest back in our workforce. Instead of paying the government more in taxes on equipment, we could take that money to increase our wages or hire a new employee," said John Raine. "Over time, these tax cuts will pay for themselves."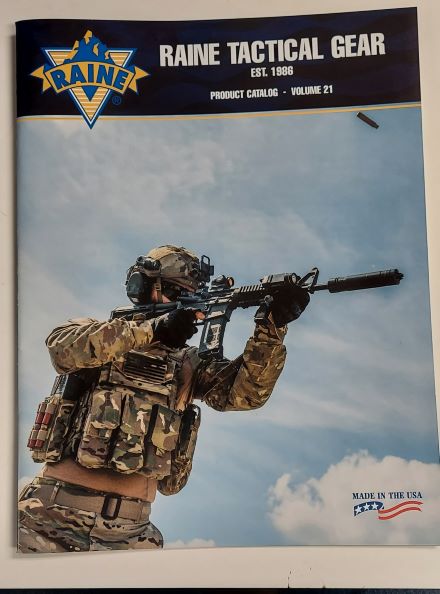 Military members returning from the front lines regularly tell John that Raine Tactical Gear is reused and not thrown out, giving our U.S. service members the best bang for their buck.
According to a recent NFIB survey, a historic number of small businesses are struggling to increase their workforce. Half of all small business owners have reported raising compensation, up two points from December and a 48-year record high. Open positions are at record levels. About half of small businesses say they have already raised wages to hire workers and other 27% plan to in the next 3 months.
"This legislation would provide small business owners across the state with much-needed tax relief. They're facing historic workforce shortages and the highest inflation levels in 40 years. Tax savings would free up funds to help main street better compete with big business in this tight labor market and adjust to the increased cost to do business," said Natalie Robinson, NFIB State Director in Indiana. "Indiana's business personal property tax is a levy on small business, and many have been bearing the brunt of this for years."
You can find the text of the bill here.
Republicans in the Indiana Senate stripped the House Republicans' plan for $1 billion in tax cuts from the bill during the first hearing in the Tax and Fiscal Policy Committee on Tuesday. Committee Chairman Senator Travis Holdman, R-Markle, authored the amendment to remove all the tax-cuts language from House Bill 1002, leaving only one section that would streamline the automatic taxpayer refund that will be issued to Hoosiers in May. NFIB will remain vigilant on this issue as discussions will continue on the proposed amendment to remove all of the tax cuts.