After COVID-19 pandemic, Plainfield entrepreneur still open for Small Business Saturday
Indiana's Main Streets Could Still Use the Help:
In its latest Jobs Report, released this month, NFIB recorded 49% of its membership reporting job openings they could not fill despite the record high in pay they were offering.
Also this month, NFIB released the latest findings of its special COVID-19 polls showing 62% of small-business owners saying supply-chain disruptions are worse now than three months ago and 90% expecting the problem to continue for the next five months or longer.
Equally troubling, NFIB's Small Business Economic Trends report found the percentage of small-business owners expecting better business conditions falling four points to a net negative 37%. This indicator has declined 17 points over the past three months to its lowest level since November 2012.
At 6 Strings Down in Plainfield, owner Dave Bryant is preparing for a busy day. Bryant has been selling guitars and amplifiers for more than 20 years – which he says, makes him "old school." Bryant doesn't have a website or a Facebook page – he relies on word of mouth from loyal customers. Good thing he's got a lot of them. That's because Bryant sells guitars you can't find anywhere else. Bryant only stocks used and vintage guitars, many that are one-of-a-kind.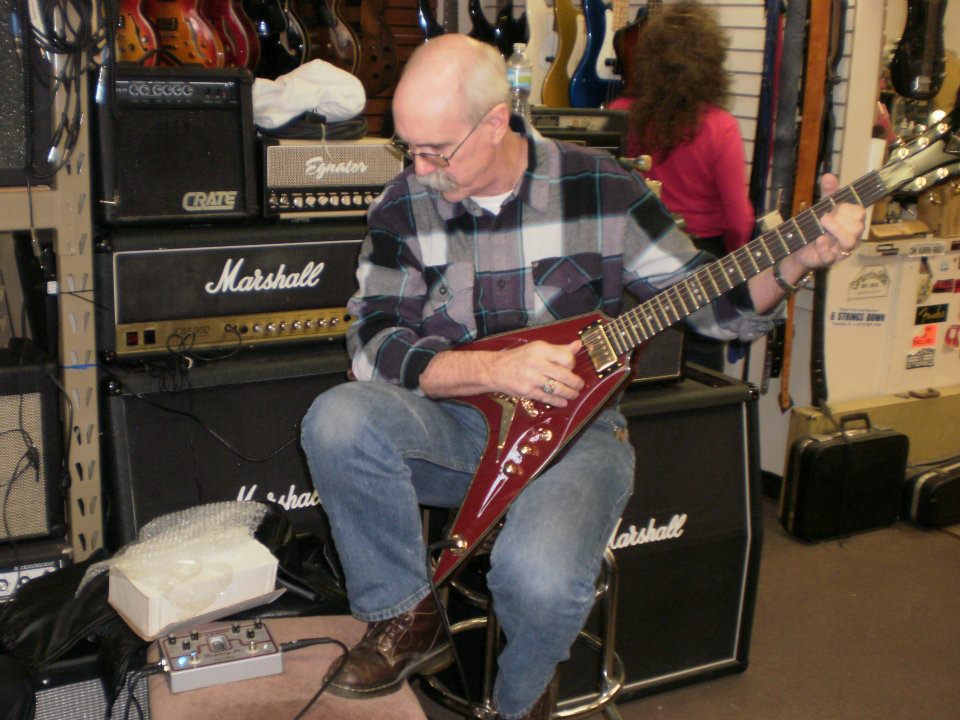 Dave Bryant, playing one of his guitars at 6 Strings Down in Plainfield
Quick Facts
Established during the recession by American Express in 2010 and officially cosponsored by the U.S. Small Business Administration since 2011, fully 70% of consumers are now aware of Small Business Saturday, according to a 2019 Small Business Saturday Consumer Insights Survey by AMEX and NFIB.
Shoppers at independent retailers and restaurants that day in 2019 spent an estimated $19.6 billion—but that was pre-pandemic.
In 2020, when some thought the 2019 numbers couldn't be matched, spending actually increased to $19.8 billion. "Many small businesses pivoted to selling online or through social media platforms to stay connected with customers throughout the pandemic, and these efforts appear to have paid off, with 56% of Small Business Saturday shoppers reporting they shopped online with a small business on the day, an increase from 43% in 2019," reported AMEX. "In addition, small business owners rolled out a variety of giveaways and special offerings to consumers, a smart strategy as 43% of consumers reported that they took advantage of special offers or promotions from small businesses on the day."
Last week, the research firm Morning Consult found, "Almost 4 in 10 U.S. consumers say they will do the majority of their holiday shopping online: Another 36% plan to evenly split their holiday shopping between stores and online. Only 1 in 4 consumers will do the majority of their holiday shopping in stores.
"About 50% of those who have started shopping have faced supply chain issues. These include items being out of stock online (48%), in store (48%) or back-ordered or delayed (46%)."