NFIB, the state's leading small business advocacy organization, today announced that state Rep. Robin Smith earned its Guardian of Small Business award. Rep. Smith was presented the award in a virtual call this morning with NFIB leaders and members from her district.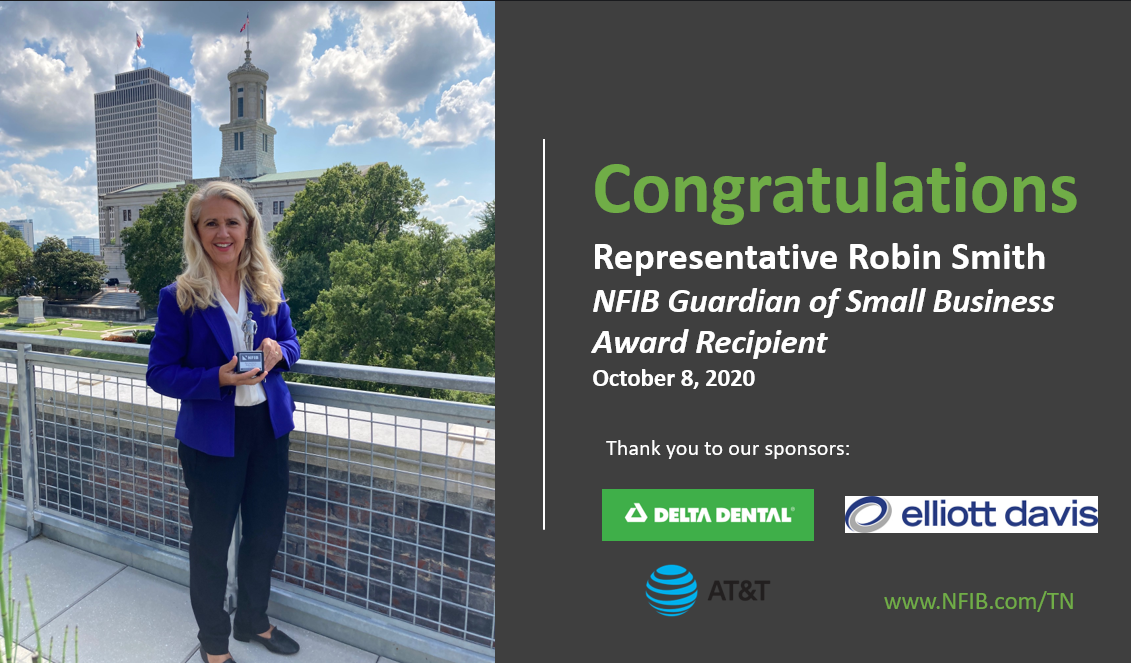 The Guardian of Small Business award is the most prestigious honor that NFIB bestows on legislators in recognition of their efforts to support small business. The NFIB Tennessee Leadership Council, an advisory board comprised of NFIB members, voted to present the award to the legislator for her outstanding leadership on small-business issues.
"Robin Smith is an exceptionally strong leader on small business issues in Tennessee," said NFIB State Director Jim Brown, noting her 100 percent NFIB voting record in 2019-2020. "Small business owners in her district and across Tennessee appreciate Representative Smith for supporting legislation that has a positive impact on their operations and Tennessee's economy. On behalf of NFIB's 6,000 members in Tennessee, we're grateful for her unwavering support of free enterprise."
Brown said Smith's successful sponsorship of SJR 648, which would guarantee in Tennessee's Constitution that our state is a right to work state, was an important first step in the process and a highlight for small business in the 2020 session.
"I'm greatly honored to receive NFIB's Guardian of Small Business award," Smith said. "It is crucial that we make sure small businesses have the ability to operate on a level playing field and have the resources they need to succeed, especially during this challenging time. I look forward to advancing the right to work constitutional amendment to the state ballot in 2022 so Tennessee's voters can approve worker choice and workplace freedom that make our state a great place to work and live."
Smith, who lives in Hixson, represents House District 26, part of Hamilton County. She chairs the House Insurance Committee and is a member of the Calendar & Rules and Health committees.