The Tennessee office of NFIB, the state's leading small business advocacy organization, today announced that state Sen. Frank Niceley earned its Guardian of Small Business award. Senator Niceley was presented the award in a virtual call this morning with NFIB leaders and members from his district.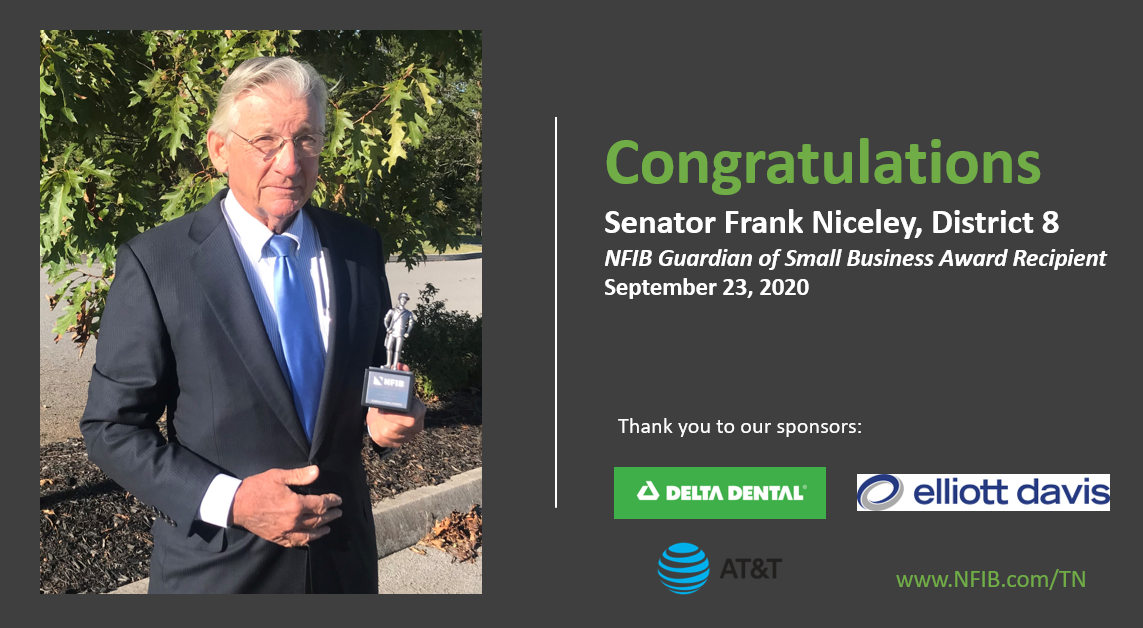 The Guardian of Small Business award is the most prestigious honor that NFIB bestows on legislators in recognition of their efforts to support small business. The NFIB Tennessee Leadership Council, an advisory board comprised of NFIB members, voted to present the award to the legislator for his outstanding leadership on small-business issues. 
"Frank Niceley has been an exceptional supporter of small business during his six terms in the House and more recently his service in the Senate since 2013," NFIB State Director Jim Brown said. "Senator Niceley had a perfect NFIB voting record in 2019-2020 and has been a thoughtful advocate on critical issues for small business on the Commerce & Labor Committee. On behalf of NFIB's Tennessee members, we're grateful for his strong leadership and staunch support of free enterprise."
"I'm very grateful to receive NFIB's Guardian of Small Business award," Niceley said. "Small businesses are the backbone of my district and our state's economy can only be strong if they're succeeding. It's critical that we adopt policies that ensure our small businesses operate on a level playing field and have the resources they need to succeed, especially during this challenging period."
Niceley, who lives in Strawberry Plains, represents Claiborne, Grainger, Hancock, Hawkins, Jefferson and Union counties in Senate District 8.