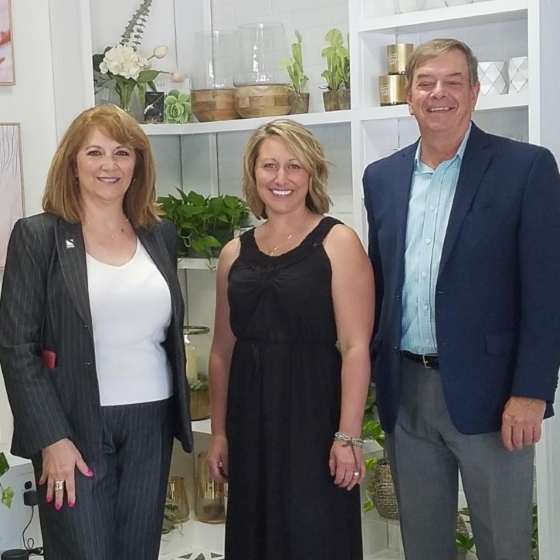 NFIB State Director Mark Grant and Leadership Council Chair Cindy Neal joined other business leaders on Tuesday, July 7, at a news conference to announce the No Progressive Tax coalition. The event was held at Le Fleur Floral Design + Boutique, an NFIB member business in Washington, about 10 miles east of Peoria.
Amy Morgan bought the business in 2014 on its second anniversary. Ordinarily, the flower shop employs as many as 20 people, but, because of the slowdown in business related to the novel coronavirus, it's operating with a staff of four. She spoke with us about why she joined NFIB and about the challenges of running a small business.
When did you join NFIB?
"I joined NFIB approximately four years ago. I feel that one of the biggest challenges I have as a small business owner in Illinois is the state's political climate, and I feel that my voice could never be heard individually. I feel that NFIB has my best interests in mind and can help protect them."
Why did you agree to host the No Progressive Tax news conference?  
"I wanted to do my part to help NFIB. There are so many mixed and conflicting opinions about the progressive income tax, but what I do know is that our current government has shown an overuse of power in the last few months, and this (progressive income tax) gives them an advantage to continue to control. This tax will not fix Illinois' problems but will instead give legislators more money to spend on what they wish."
What is the greatest challenge facing your small business right now?
"Currently, I'm unsure about what legislative issue is affecting our business the most because of the pandemic. Twenty-twenty has been a year to step back, evaluate and simplify. The fear of the unknown is incredible, and the frustrations over the decisions that have been made in all aspects of this pandemic are frightening. As a business, we are trying to navigate the ups and downs along with all other humans while positively serving them, giving them grace and patience."
To learn more about Le Fleur Floral Design, visit their website or follow them on Instagram and Facebook.