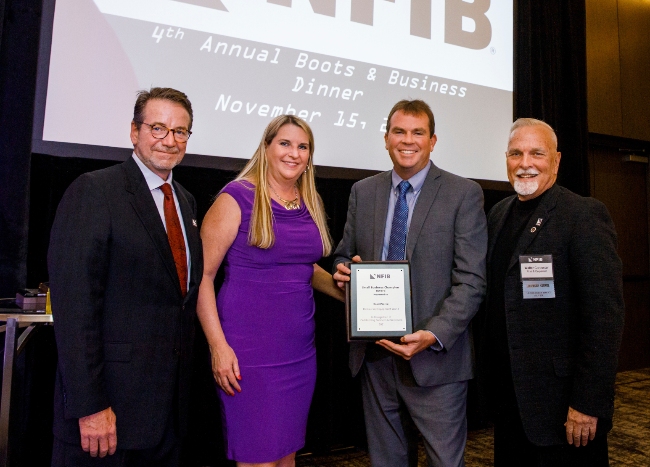 Restaurant Equipment World, an NFIB member business in Orlando, was recently honored with an NFIB Small Business Champion Award in recognition of its ability to respond to the changing marketplace created by the COVID-19 pandemic. NFIB State Executive Director Bill Herrle presented the award at the 4th annual NFIB Boots & Business Dinner in Tallahassee.
Restaurant Equipment World is a second-generation business, founded in 1976 by Jerry Pierce, who served for many years as chairman of the NFIB Florida Leadership Council. Pierce has since retired, and Restaurant Equipment World is now operated by his children, Brad Pierce and Patty Nuzzo, who serves on the Leadership Council. 
"Restaurant Equipment World is a global business," Herrle said. "They sell restaurant products in all 50 states and 110 countries. 
"When COVID struck, Brad and Patty realized they needed to secure their business operations were still able to function, and they made it a goal to keep 100% of their staff, and now, over a year-and-a-half later, they have 100% of the staff they started this crisis with.
"But then they decided to give back more," Herrle said. Brad Pierce, who is also a pilot, is active in AERObridge, a nonprofit that delivers critical supplies to communities affected by a natural disaster. Pierce worked closely with AERObridge to deliver personal protective equipment and supplies to healthcare providers and first-responders throughout the country.
Herrle said, "Brad and Patty worked to keep their business going, but they also thought of how they could help the larger community, and, for that, we want to recognize them with this Small Business Champion Award."