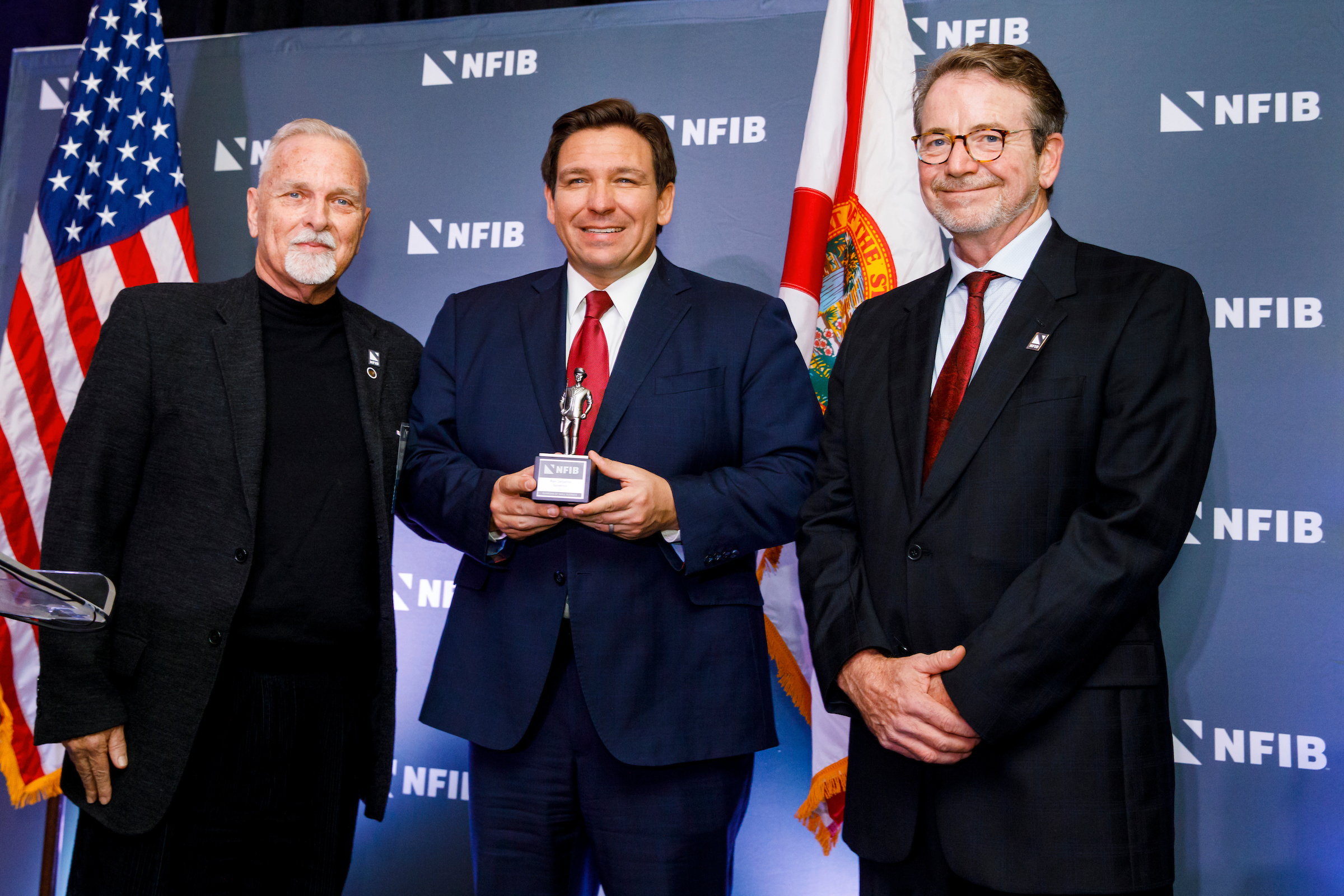 NFIB, the nation's leading small business advocacy organization, has presented Gov. Ron DeSantis with its Guardian of Small Business award. NFIB State Executive Director Bill Herrle presented the award to Governor DeSantis this evening at NFIB's 4th annual Boots & Business Dinner, held at the AC Hotel in Tallahassee. 
The Guardian of Small Business award is the most prestigious honor that NFIB bestows on elected leaders in recognition of their efforts to support small businesses. The NFIB Florida Leadership Council, an advisory board comprised of NFIB members, voted to present the award to Governor DeSantis for his outstanding leadership on small-business issues.
In his remarks, Governor DeSantis said, "The backbone of our economy is small and medium-size businesses. They have to be able to succeed."
"Since taking office in 2019, Governor DeSantis has done an outstanding job creating an environment that allows Florida's small businesses to succeed," Herrle said. "Our members truly appreciate how he handled the pandemic, balancing the need to reduce the spread of the virus with the need to ensure that businesses can continue to operate and keep Floridians working."  
In addition to recognizing the governor, NFIB presented three member businesses with its Small Business Champion Award. The award went to: 
Marcello Canitano of SilverHorse Racing, an automotive parts manufacturer in Melbourne

Brad Pierce of Restaurant Equipment World, a commercial supply company in Orlando  

Christina Soverns-Schwartzman of Sawgrass Recreation Park, an Everglades airboat tour operator in Weston. 
"These businesses are being honored for their tenacity and creativity in dealing with the pandemic," Herrle said. "The past couple of years have been difficult for everyone, but these independent businesses led by example and showed others what it takes to continue providing the goods and services their customers need while protecting the health and safety of their employees."