Virtual Ciattarelli Event Drew Small Business Owners From Across New Jersey
(TRENTON) The National Federation of Independent Business (NFIB), New Jersey's leading small business organization, today hosted Republican gubernatorial candidate Jack Ciattarelli in a virtual event with members and small business owners from across the state. Ciattarelli was recently endorsed by NFIB New Jersey PAC, the state's most influential and effective small business political action committee.
The meet and greet was an opportunity for small business owners to hear Ciattarelli's vision of a governor who supports Main Street businesses and builds an open economy to promote growth and opportunity for all. Members were delighted with Ciattarelli's remarks and the Q and A that followed. Said Kameron R., beauty school owner and NFIB member, of Egg Harbor, NJ: "As one who lobbies DC regularly on behalf of my industry, this is the most satisfying discussion I've ever had with any politician or candidate. Thanks!"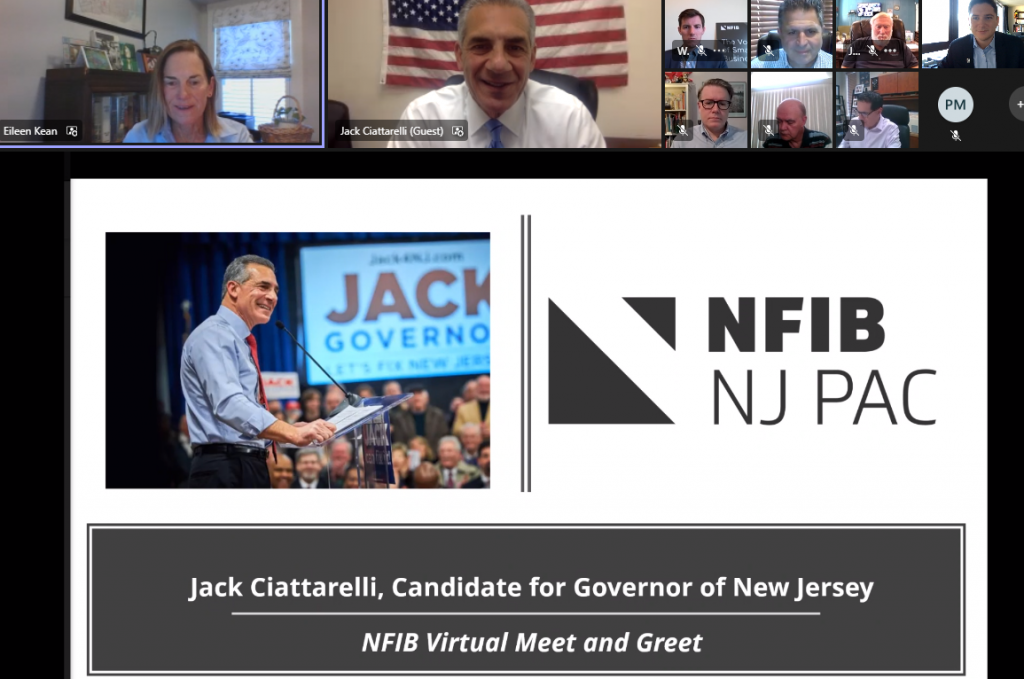 As a business owner, Ciattarelli, a former state legislator and NFIB Guardian Award winner, understands the daily challenges small business owners face: "I understand the unique challenges confronting Main Street businesses. I am the first major gubernatorial candidate to be a small business owner in more than 30 years. So, thank you, you all have humbled me with your endorsement. It's very meaningful to me, particularly as someone who's been a small business owner and whose family have all been small business owners and independent business owners."
"NFIB members and small business owners are strongly behind Jack Ciattarelli to be the next governor of New Jersey," said Eileen Kean, NFIB State Director in New Jersey. "Small business owners and their employees, many of whom who are still struggling to recover from the COVID-19 pandemic, need a governor in Trenton who will support them and enact pro-growth policies. Jack Ciattarelli is the pro-small-business for governor, and we are grateful he took the time to listen to our members and meet with us this morning."
You can watch or download a recording of the small business meeting with Jack Ciattarelli below.
Link:
https://vimeo.com/637811359/5b68f30d6e
Download Link:
https://vimeo.com/nfibvideo/download/637811359/7748d64117