Running a rare business that is experiencing growth
Long-time NFIB member Alzada Knickerbocker has agreed to write some profiles of the extraordinary people who make up the membership of the nation's leading small-business association. Below, is her first on Darrell Feil, NFIB California's leadership council chairman
In this era of pandemic, many small businesses in California and around the country have been forced to shut down for weeks, even months, or be open only in limited ways. That's led to lots of folks out of work and, in some cases, permanent closures.
But not Abate-A-Weed in our Central Valley town of Bakersfield. It's not only maintaining, it's expanding.
How's that possible?
In the beginning, the business focused on weed control in the oil fields. Today, it includes a retail component selling outdoor power equipment for professional, commercial, and residential use, including the full gamut of mowers, trimmers, and more, along with equipment parts, as well as lawn products and pesticides.
It grew to provide offsite service as well–in a big way.
Abate-A-Weed takes care of the grounds of school district outdoor areas, parks, and water districts, as well as the canals in agricultural fields. It's in this particular profit center part of the business that Abate-A-Weed not only experienced an economic reprieve during the pandemic, when they were open but business had slowed, but also an instance of significant and important growth.
The business was awarded a contract just before the national economic shutdown to handle fire control around the poles for an electrical utility in an area that encompasses nearly 200 miles. Though the contract came with its own regulation and documentation challenges, it's definitely been worth it. With the new contract, the business increased to 50 employees building on the stability and longevity of many who've been with Abate-a-Weed 15 years and more.
Owner Feil is justifiably proud of his business's growth and the jobs he provides his employees, enjoys his work, and, at 58, plans to keep going forward as he has before.
More than a Half-Century of Service
Started in 1965 by the father of one of the current owners, Abate-A-Weed is now owned by Feil and Dennis Penner and proof that not all pandemic small business stories have a negative narrative.
Darrell Feil has been an NFIB member for 12 years and a leadership council member for five of those years. He is now chairman of the council. His work has drawn the attention and praise of Bakersfield-area elected officials such as U.S. House Minority Leader Kevin McCarthy, State Senate Minority Leader Shannon Grove, and Assemblyman Vince Fong.
Congratulations to Darrell Feil and Abate-A-Weed. Something says there will be more to come.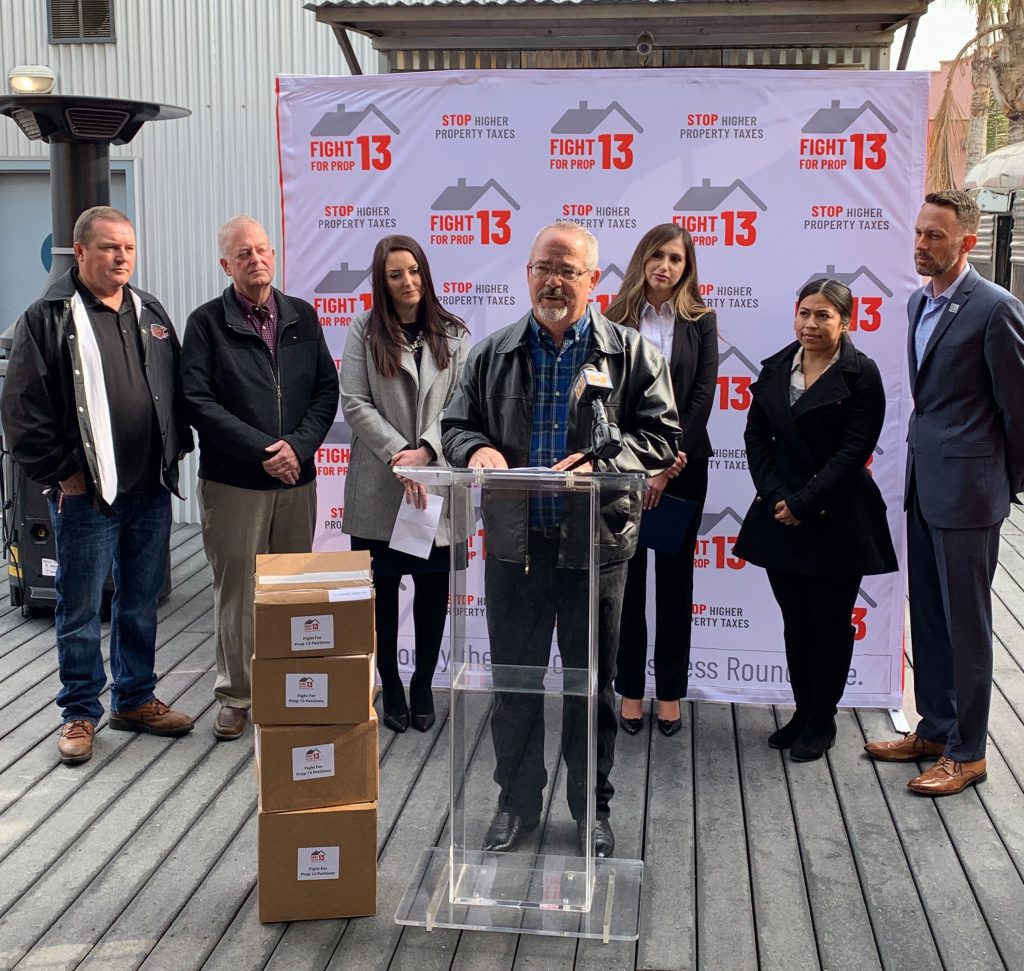 NFIB California Leadership Council Chairman Darrell Feil speaking at a news conference on preserving Prop. 13 property tax protections