Alzada Knickerbocker was a passionate advocate for small business
The NFIB California family was deeply saddened to learn of the passing of one of its most beloved and effective leadership council members October 20.
"It will take some time getting used to not seeing Alzada Knickerbocker at our meetings and in our marches down the hallways of the State Capitol advocating for California's small businesses," said John Kabateck, California state director for NFIB. "Every small-business owner in California has benefited from her gentle persuasion with legislators in educating them about the unique challenges Main Street entrepreneurs face. Her effectiveness came from knowing of what she spoke."
According to the Davis Enterprise, her hometown newspaper, "In 1987, Alzada found her true calling when she opened the Avid Reader Bookstore with her then-husband, Stan. The Avid Reader quickly became a local treasure, and the legacy lives on through the Avid Reader Bookstore and Avid Reader Active shop in downtown Davis. Alzada took great care and pride in serving a diverse community and had long-term dedicated customers and employees. Her store survived Amazon and big box competitor Borders Books.
"Outside of Davis, Alzada was a member of the National Federation of Independent Business, advocating at the state and national level on small-business issues. She won the NFIB California Small Business Champion Award, twice, competing with more than 20,000 members across the state."
Darrell Feil, a Bakersfield small-business owner and chairman of NFIB California's Leader Council, remembers Knickerbocker as "always prepared for our Day at the Capitol visits in Sacramento and D.C.  She always had a handout, and she knew what she wanted to communicate.  She was a smooth operator and such a great team player.  A class act all the time."
Luke Wake, a former staff counsel for NFIB's Legal Council called "Alzada was one of a kind. I was so impressed with her willingness to stand up for what she believed in and proudly. We had some good times, especially with her Constitution Day, which she always loved so much. I got a kick out of the last one we did because I suggested a handful of great reads on the Constitution and she displayed all those books in her storefront window. 
Fellow leadership council member Judy Lloyd said Alzada kept working for small businesses right up to the end. "I remember her going into the congressional meetings talking about the tax bill and saying: 'I ran the numbers and, yes, my business will see significant savings. We must keep the tax cuts in place.' Truly a great patriot and a great leader for our cause and that of all small businesses across California and this great nation."
Manuel Cosme, the leadership council member with the longest history with Knickerbocker, said, "Alzada and I go back to the 90s when I was first appointed to the NFIB Guardian Council before it became the Leadership Council.  There is no doubt of her contribution to NFIB and the loyalty she had to the advancement of small businesses.  Although she is gone, she remains a tribute to NFIB and small businesses everywhere."
Other tributes included:
"Having a stalwart pillar of strength like Alzada, blazing the trail before me, has always been reassuring and comforting, and I'll deeply miss her in that indispensable role," said Janine Montoya. "I will miss her dependable kindness, purposeful presence, and quiet passion for all she loved in this world; things that I also love! The example she set giving her time and energy to American values of liberty and self-reliance, and in celebrating our amazing Constitution by educating others, inspires me to also leave a mark on the world. What an amazing steward of the days God gave to her. I'm so blessed to have stood next to her countless times in our fight for small business! She leaves big shoes to fill, but we need to try."
"The memories she leaves behind will be treasured and will guide us to keep her passion for what is good about this country alive and continuing." – Sunder Ramani
"I too had the opportunity to walk the halls of the Capitol with Alzada on a number of occasions. She was always so passionate about protecting the right to own and grow small business. She will truly be missed. A life well lived." – Jose Villa
"As always, she had a smile on her face, pleasant things to say, and was vibrant and ready to go. She will be watching over us in heaven.  We will miss her smiling face." – Maryann Marino
"Alzada will be missed. Let's continue to carry her message to Sacramento." – Jeff Pardini
"She set the standard for what an NFIB member should be. She was always interested in what other people thought and wanted to let others know how she felt, passionately but respectfully.  That is what I will miss most about her, her candor yet her acceptance of people that had different viewpoints even though she didn't agree. It was apparent that with all the opportunity she had and the experience in life that she could draw on what made her the most happy was owning a bookstore and being a business owner. She will be missed." – Paul Cramer
"What a loss for our cause. Alzada was the best. She always amazed me by showing up and being an important part of everything we did – everything! Sally and I had the good fortune to spend time with her at several of our meetings and Sally thought she was terrific as well. The two of them really clicked as successful women in business." – Mike Horner
Click here to read State Director John Kabateck's email to the leadership council announcing the passing of Alzada Knickerbocker, which contains more information.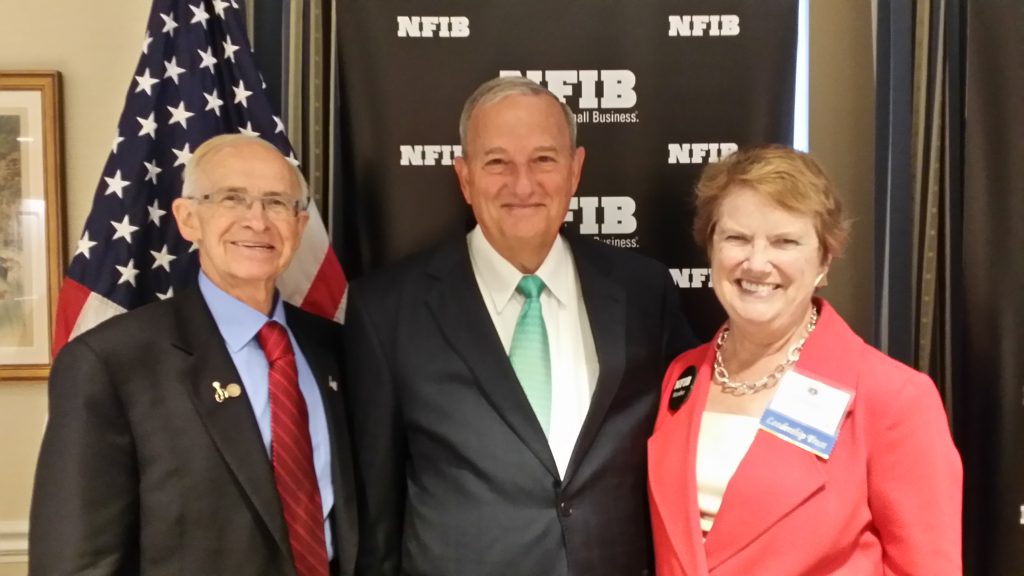 Alzada Knickerbocker at one of her many visits to Washington D.C. to lobby on small-business issues. At left is NFIB Leadership Council member Gary McKinsey, center if former NFIB Chairman and CEO Dan Danner.