Saddlebrooke Sen. Vince Leach, Peoria State Rep. Ben Toma praised for their work on behalf of state's Main Street enterprises
NFIB Arizona presented two state lawmakers with its Guardian of Small Business award June 10.
"There were 16 state senators and 31 state representatives with 100% and pro-small-business voting records in the 2019-2020 session of the Arizona Legislature, but what set Sen. Vince Leach and State Rep. Ben Toma apart from many of the others was the extra work they put in winning passage of bills beneficial for Arizona's Main Street, mom-and-pop enterprises," said Chad Heinrich, Arizona state director for NFIB, whose guardian awards are a nationally coveted honor by congressional and state representatives.
About Toma
Heinrich praised Toma for his work as the prime sponsor and bill manager for House Bill 2757, which included reductions in individual income taxes, a shrinking of the tax brackets from five to four, conformance of Arizona's state income tax code to the federal 2017 Tax Cuts and Jobs Act, and, not least, simplification of Arizona's Transaction Privilege Tax in alignment with the U.S. Supreme Court's Wayfair decision. "These reforms were huge and will position Arizona for a better bounce back from the economic impact of the coronavirus," said Heinrich, who also credited Peoria lawmaker for stopping many bad-for-small-business bills from advancing very far.
About Leach
Heinrich called Leach a key leader in shepherding HB 2757 through the Senate and for his work on ensuring property tax information is provided in an open manner to each property tax payer. "In 2020, Senator Leach was the principal sponsor of NFIB priority legislation, SB 1113, which requires a tax statement from a county treasurer to separately list the property tax information for the current and previous tax years that is due to each taxing jurisdiction."
Also in 2020, said Heinrich, Senator Leach co-sponsored another NFIB priority, SB 1449, through the upper chamber. "This legislation seeks to protect retailers and other sellers of products from being brought into product liability lawsuits except in certain circumstances where the seller may have contributed to a product defect."
Click here to see the voting records for every legislator during the 2019-2020 session.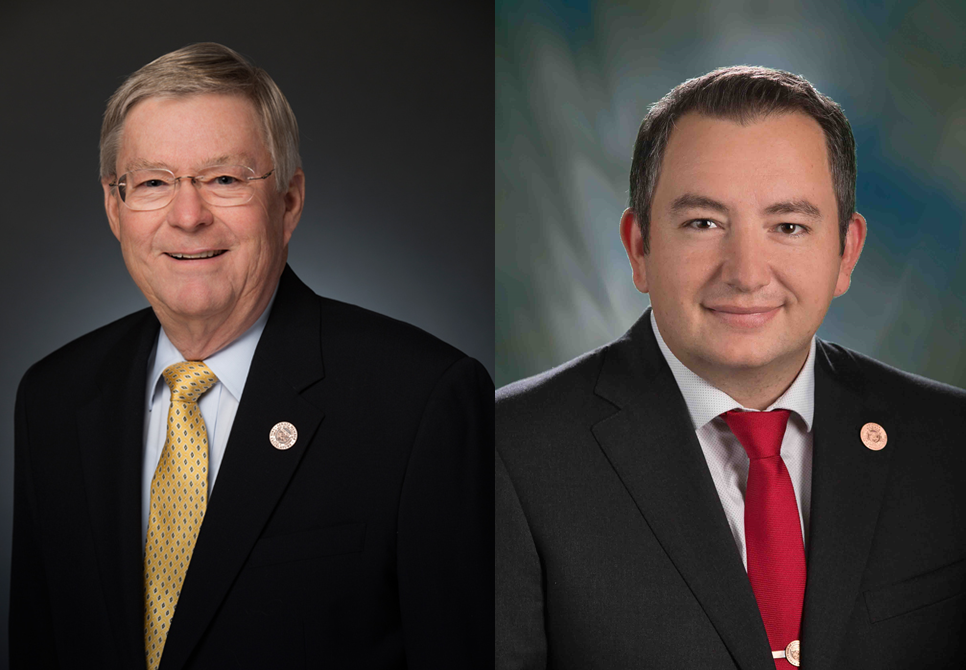 State Sen. Vince leach, left, and State Rep. Ben Toma. Photos courtesy of the Arizona State Legislature website.