Need to contact us in Missouri?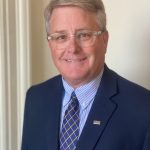 Brad Jones
NFIB/Missouri State Director
Brad Jones has served as the NFIB/Missouri state director for more than 11 years. Jones oversees all of the legislative, political and member activism activities of NFIB on behalf of its small business members in Missouri.
Over the past eleven years, NFIB has worked to bring down the cost of workers' compensation and to find solutions to curbing run away healthcare costs. Recently, the governor signed a bill that will give small business owners a much greater voice in the administrative rule-making process. NFIB was leader in this effort.
Prior to serving as NFIB/Missouri state director, Jones worked as director of education and environmental affairs for Associated Industries of Missouri. AIM represents around 1500 manufacturers around the state. After eight years with AIM, he took over as the executive director of the Missouri Mining Council.
308 E. High St., Suite 202
Jefferson City, MO 65101  
573-634-7660
Additional NFIB Contacts

Jamie Cobby
Grassroots Manager
217-523-5471
Jessica Henrichs
Senior Media Manager
913-671-0333
[email protected]