Inflation explained and what is contributing to these economic challenges
The nation's current economic challenges have brought inflation to the forefront for small business owners. Inflation is defined as a general increase in the prices of goods and services in an economy. NFIB's surveys of small business owners show supply chain disruptions, workforce shortages, and fuel price increases have contributed to the issue. To absorb the pressure of inflation and keep their businesses afloat, many small businesses have been forced to increase prices this year.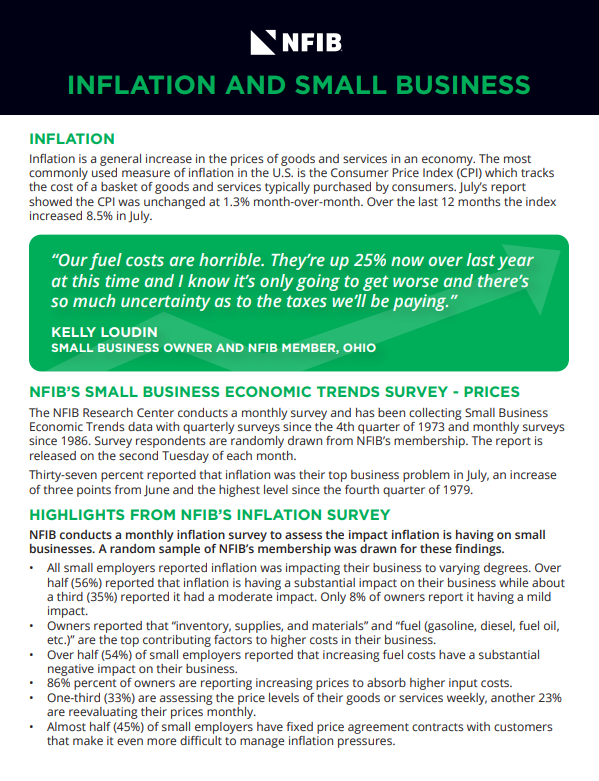 According to the NFIB Research Center's July inflation survey, 79% of small employers report that rising fuel prices are a substantial contributor to higher costs. Inventory, supplies, and materials were another commonly-named contributor at 72%.
"Inflation has set in on Main Street and owners across the country continue to make business decisions in response," said Holly Wade, Executive Director of NFIB's Research Center. "As owners manage the highest inflation rate in decades, they are also managing an ongoing worker shortage and supply chain disruptions, which is hurting their businesses and consumers."
Thirty-seven percent of small business owners reported that inflation was their single most important problem in operating their business, an increase of three points from June and the highest level since the fourth quarter of 1979, according to NFIB's Small Business Economic Trends report from July.
Overall, over half (56%) of small employers reported that inflation is having a substantial impact on their business while about a third (35%) reported a moderate impact. Three quarters (75%) of owners reported that inflation pressure is getting worse, a quarter (25%) reported about the same, and 1% reported it easing up.
"The uncertainty in the small business sector is climbing again as owners continue to manage historic inflation, labor shortages, and supply chain disruptions," said Bill Dunkelberg, NFIB Chief Economist. "As we move into the second half of 2022, owners will continue to manage their businesses into a very uncertain future."
Take Action: During this difficult time of surging inflation, we want to hear from you on how IRS provisions included in the new Inflation Reduction Act would add to the challenges small businesses are facing right now.