COVID liability protection for small businesses remains an NFIB priority at state and federal levels
Across the nation, small business owners following COVID-19 health and safety guidelines still fear their livelihoods being taken away under meritless COVID-19 related lawsuits. That's why NFIB is urging state and federal governments to shield small business owners from lawsuits brought by customers or other third parties unless they prove the business willfully failed to develop and implement a plan to reduce the risk of COVID-19, and that the failure caused the injury.
The NFIB Small Business Legal Center's Executive Director Karen Harned, shared this insight on the need for swift action to protect small businesses, "An NFIB survey found that 70% of small business owners are worried about litigation over coronavirus exposure. These businesses are not looking for a get-out-of-jail-free card. They are looking for assurances that they won't get sued if they do their best to operate safely. Workers are wanting to feel safe going into work, and our members are very focused on that."
While liability protections are being considered in potential federal legislation, state government action is essential in shielding businesses from meritless attacks. COVID-19 liability protection measures have been passed in Georgia, Idaho, Iowa, Kansas, Louisiana, Mississippi, Nevada, North Carolina, Ohio, Oklahoma, Tennessee, Utah, and Wyoming.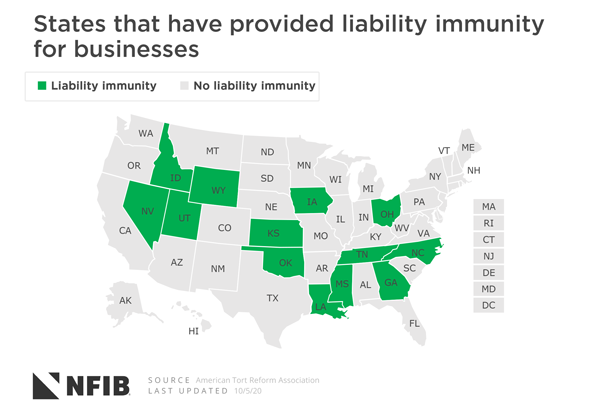 Here's a look at the latest news on this issue in three states:
In Florida, Governor Ron DeSantis has indicated he would like to see a special session of the Florida legislature to consider COVID-19 liability protections.  Bill Herrle, Executive Director for NFIB in Florida said in a recent interview, "This reform is urgently needed. Small businesses make decisions not just on a daily basis, but on almost an hourly basis, in terms of what staff they deploy, how they direct their staff, how they recommended their staff self-quarantine, and so forth. Lots of decisions that are COVID-driven – there's liability potential in all those decisions. So, small business owners very much feel that someone must have their back in that, and that has to be the state." Herrle added, "We need to know that we can make prudent decisions to get the products and services to Floridians, and know the state has our back."  Read more >>
The Michigan House of Representatives passed a package of bills that aim to provide liability protections for the state's employers and manufacturers. NFIB State Director Charlie Owens said of the bills, "Michigan's small businesses who have fought to survive over the course of this pandemic should be able to reopen and get back to work without fear of unnecessary and costly legal battles." Owens added, "This legislation distinguishes actual injuries and legitimate claims from 'phantom injury' lawsuits claiming 'emotional distress' or other injuries that cannot be documented to have occurred on the premises of the defendant."
According to Michigan's HB 6031, a business is not liable for a COVID-19 claim unless it can be proven it disregarded health and state guidelines. Examples include not giving employees personal protective equipment and denying employees time off when they are sick. The other measures in the package create guidelines for anyone filing a COVID-related lawsuit against their employer, and they protect employees from being terminated or retaliation if they test positive for COVID-19. The bills have not gained support from Governor Gretchen Whitmer (D), who says existing law already protects people "taking reasonable care to protect workers and customers." More Michigan news >>
In Ohio, Governor Mike DeWine recently signed the COVID Liability Protection Bill (HB 606) into law. Roger Geiger, Executive Director for NFIB in Ohio responded, "With the signing of House Bill 606 by Ohio Governor Mike DeWine, small business owners across the state can feel safer from unmerited COVID-19 lawsuits." Geiger added, "When House Bill 606 is enacted, businesses will not be liable for claims of exposure, transmission, or contraction for COVID-19 unless they acted with reckless or intentional conduct or willful or wanton intentional misconduct. This law will not only protect Ohio small business owners who are doing everything they possibly can to ensure safe workplaces but will also provide the same necessary protections for local governments, schools, non-profits, and first responders." Read more >>
NFIB fights on your behalf in all 50 states. Learn more about this and other issues in your state.