Hiring Crisis Continues into 2022
NFIB's monthly Jobs report shows that small businesses continued to struggle to increase their workforce in February, with 11% of owners reporting that labor costs were their top business problem. Reports of labor costs as the top business problem are at 48-year record high levels, only two points below the December 2021 record.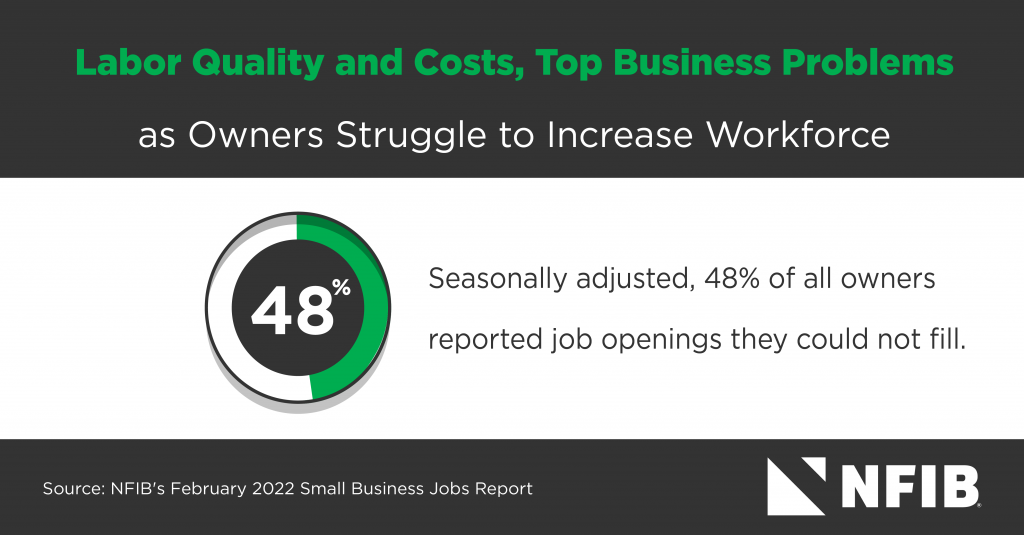 NFIB's February 2022 Jobs Report, released on March 3rd, also noted that 22% of owners cited labor quality as their top business problem. Forty-eight percent of all owners reported job openings they could not fill in the current period, up one point from last month and only slightly lower than 48-year record-high reading. The number of unfilled job openings is more than double the 48-year historical average of 23%. A net 19% of owners also plan to create new jobs in the next three months. 
"Throughout the country, the number of job openings continues to exceed the number of unemployed workers which has produced a tight labor market, especially on Main Street," said Bill Dunkelberg, NFIB Chief Economist. "Small business owners are working hard to recruit and retain employees to get back to a full and productive workforce." 
Up two points from last month, 61% of owners report hiring or trying to hire in February. Ninety-three percent of said owners reported few or no qualified applicants for the positions they were trying to fill. The strong demand for labor continues : 37% of owners have openings for skilled workers (up 1% from January) while 25% have openings for unskilled labor (up 3%). 
Employers continue to raise compensation to entice potential applicants and retain current employees, although at a lower rate than last month. A net 45% of owners reported raising compensation, down five points from January's 48-year record high reading. Additionally, a net 26% plan to raise compensation in the next three months. 
Read the complete February 2022 Jobs Report here, and a news release on the report is here.  
Take Action: If you own a small business and fear that new taxes and mandates will hurt your recovery, tell your Congressional representative to vote no on any tax increases and new mandates for small businesses.