Indiana Business Owner Battles Pandemic Closures
In Merrillville, Indiana, NFIB member Jason Smith describes the past year as a wild roller coaster ride. When the pandemic hit, business at his two automotive repair shops dropped 80%. Then came the frustrating process of securing a Paycheck Protection Program loan. Smith even tried to refinance his home he was so desperate to secure money to pay his employees. People weren't driving, they were scared to spend money, and they weren't bringing their cars to M & M Car Care for servicing. Even more concerning to Jason: his brand-new and second location in Schererville was already struggling.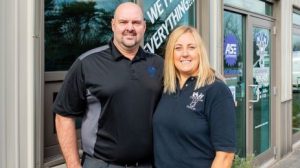 The Smiths aren't alone, NFIB has conducted a series of surveys of small business owners on the impact of the pandemic over the past year, and in the latest study, 13% of small business owners report they will have to close their doors if current economic conditions don't improve over the next six months.
"I knew that I needed to adapt and change," said Smith. "As a small business owner, I am responsible for my 12 employees. I provide them a paycheck and job security and I knew they were scared when the pandemic hit. Instead of being scared myself, my wife and I rolled up our sleeves and started brainstorming: what can we do to bring in business?" 
Jason and his wife started a drop off and pick up service. They would sometimes drive up to 20 miles out of the way to pick up a car for an oil change. The endeavor didn't provide a lot of revenue, but as Jason says, "we had to do what we had to do." The husband-and-wife team also offered free oil changes to first responders and Veterans. To support other small businesses in the area, with the purchase of an oil change they gave their customers a gift card for a free lunch. Add the free lunches to the free oil changes for veterans and first responders, and the Smiths gave more than $15,000 back to their community.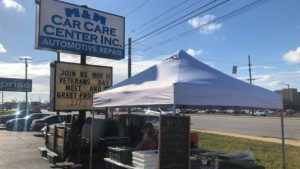 "Yes, we were hurting but so was everyone. What's the point of community when you can't come together to help each other out during tough times? It brought our community together and pretty soon people were reaching out to ask me how they could help."
The Smiths secured two rounds of federal Paycheck Protection Program (PPP) loans and with community awareness, their business was back to normal by July. He's been able to keep all 12 of his employees on the payroll. He's grateful to the PPP loans because had he not secured them, he would have had to lay off some workers. Smith says had that happened, it would have been hard to re-hire them once he was back up and running because they would be on unemployment. Smith is proud that he was able to provide his employees with not only a paycheck, but health insurance in the face of the pandemic. He's even hired two new employees from a different auto repair shop who did not have health insurance before. 
"It may seem like baby steps to many small businesses, but there is some improvement in the economy and the economic outlook. It may seem odd to say this, but things are not as terrible as they were in December," said Barbara Quandt, NFIB State Director in Indiana. "Three months ago, 25 percent of small business owners said they would have to close if there wasn't improvement within 6 months. Now that number is only 13 percent. And while 13 percent is still a huge number, it is a step forward."
Take Action: If you're an NFIB member, now is the time to vote your federal issues ballot to voice your opinion on key small business policies in Congress. You can log in and vote your ballot today at NFIB.com/VoteMyBallot.