NFIB completed a survey of small business owners from across the state of Ohio on several economic issues at the conclusion of 2021. The results of that survey show entrepreneurs are still struggling to fully recover from the pandemic on a number of fronts. Nationally, NFIB has seen small business owners wrestling with issues of hiring and a broken supply chain. Throughout Ohio, members of NFIB echo these national concerns and the impacts the issues will have on their businesses.
Even as unemployment rates dip below pre-pandemic levels, Ohio small business owners continue to struggle in filling open positions, with over 53% in NFIB's latest survey looking to hire but finding no candidates. Of those same business owners, 72% state they are having difficulty in filling open vacancies, with 60% saying it is extremely difficult.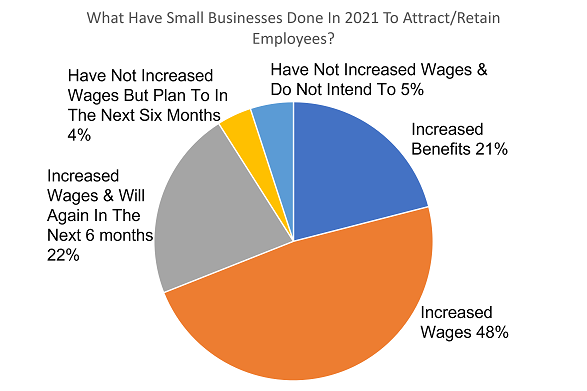 This staffing shortage is having a real negative impact on Ohio small businesses. When it comes to losing sales, 58% of owners report they have seen lost sales opportunities. Additionally, one in three have had to alter their operations due to a lack of employees.
When it comes to revenue in 2021 compared to 2020, 46% of small business owners are seeing higher revenues, while about a third are seeing a decline in revenue, and one in five see revenue as flat. As entrepreneurs look to the future, 63% see no gain or even a loss in revenues going forward in the next six months. With over half seeing no gain or a loss of revenue it makes it even more difficult to increase wages and benefits to attract employees.
Many small employers find it hard to compete with the big box stores and larger corporations. Still, in 2021, 50% have raised wages and one in five is planning to do so again soon. Twenty percent of respondents indicated they have elevated their level of benefits offered to employees to hire or retain workers.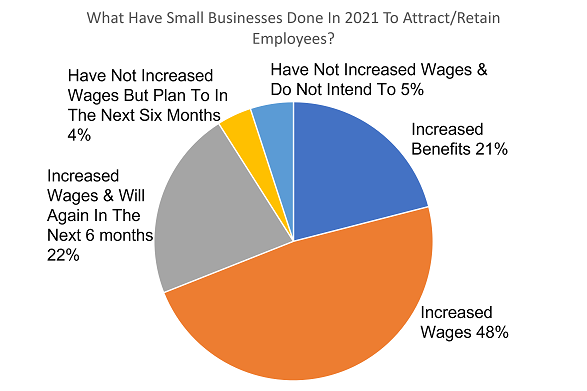 All through the holiday season, there has been a lot of talk about supply chain issues causing delays for products or parts to manufacture products. For small businesses, it is causing 70% to see issues with their supply chains. That same figure does not see the supply chain issue getting any better in the next six months.
"Ohio is seeing an economic recovery with unemployment at almost record lows and holiday sales up over 8%, beating expert predictions. 2021 also saw a record number of new business filings with the Ohio Secretary of State. But, for the small business community hiring, sales, and supply chain issues continue to be problematic," said Roger Geiger, executive director for NFIB in Ohio.
"While seven key pieces of economic recovery legislation were signed into law in 2021 by Ohio Governor Mike DeWine, we need to keep that momentum moving forward so we can see even more improvement in 2022 in creating an environment where small businesses owner can thrive in our state and continue to offer employment opportunities and investment in their local communities. Right now, entrepreneurs need all Ohioans, who are eligible, to return to work and for consumers to support the small businesses of their community," Geiger continued.
Roger Geiger and NFIB member Laura Daly, Royal Document Destruction in Columbus, Ohio spoke with Spectrum News on the hiring issues small business owners are facing.
The full survey can be viewed here.