Backing announced at member enterprises in Hastings, Mapleton
Brad Finstad and Tyler Kistner know something their opponents may not: the Power of the Small Business Voice. For that reason, NFIB-member businesses in Hastings and Mapleton were the sites of NFIB's official endorsement of both.
"Brad Finstad has the experience needed to be a strong small business advocate in Congress," said John Reynolds, NFIB Minnesota State Director, said in an NFIB news release. "As a fourth-generation farmer, former state representative, former USDA Rural Development official, and current NFIB member, he has a strong understanding of Minnesota's small business landscape. He will be a reliable ally for Main Street in Congress, and we look forward to working with him."
In another news release sent by NFIB about the endorsement of Tyler Kistner, Reynolds said, "We are confident Tyler Kistner will be a strong small business supporter in Congress. Kistner is committed to seeing the small business economy flourish again as small businesses manage historic inflation and ongoing worker shortages. He has a pro-growth agenda and his experience as a Marine will bring a unique perspective to Congress. Minnesota's small business community is pleased to endorse him."
NFIB Minnesota thanks members Carol Ward and Kevin Maslakow, co-owners of Kitty's Market in Mapleton, where Finstad was endorsed, and member Pete Terry, owner of Terry's Hardware in Hastings, where Kistner was endorsed, for their hospitality. Photos below.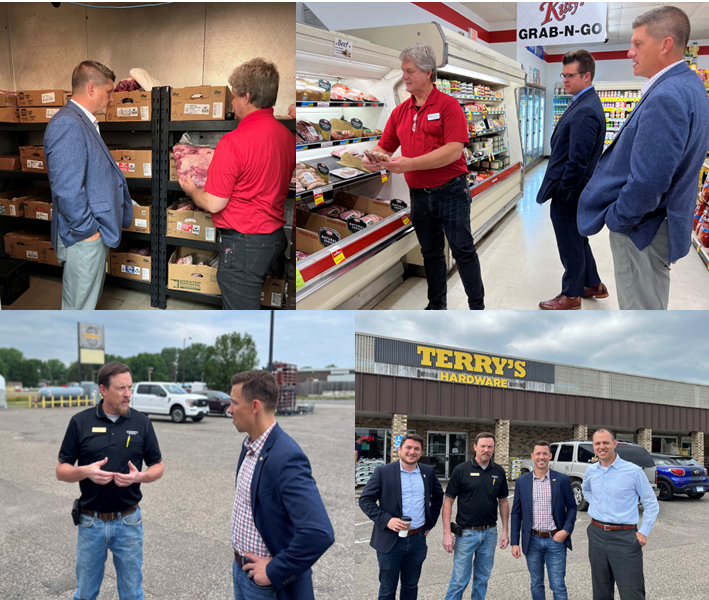 Upper-left corner, congressional candidate Brad Finstad, left, talks with Kevin Maslakow, co-owner of Kitty's Market in Mapleton. Lower-left corner, Pete Terry, left, owner of Terry's Hardware in Hastings, discusses small-business issues with congressional candidate Tyler Kistner.