Schultz will defend the rights of small business owners
FOR IMMEDIATE RELEASE
Contact: John Reynolds, Minnesota State Director [email protected], or
Tony Malandra, Senior Media Manager [email protected]
ST. PAUL, MN, Aug. 30, 2022—The state's leading small business political action committee today endorsed attorney Jim Schultz for Minnesota Attorney General.
NFIB MN PAC supports candidates who are committed to making Minnesota a better place to do business and raise a family. The state attorney general plays a key role in defending the right of small business owners to open, operate, and grow their own businesses, and the stakes are high for small business owners in this election.
"Jim Schultz has the right experience, values and solutions to get our state back on track," said John Reynolds, NFIB Minnesota State Director. "In addition to fighting crime, Schultz will defend the rights of small business, stop overzealous regulators from crushing Main Street, and protect taxpayers from waste and abuse. Jim is the ally that Main Street needs right now."
Endorsements for the Minnesota Attorney General are determined by the NFIB MN PAC Board, which is comprised of small business owners in the state. Candidates are evaluated based on their responses to key small business issues, as determined by NFIB MN members.
NFIB represents over 10,000 small businesses in Minnesota. The NFIB MN PAC endorsement is an important signal to voters across the state that a candidate will stand with small business. Learn more about the Power of the Small Business Voice.
###
For nearly 80 years, NFIB has been advocating on behalf of America's small and independent business owners, both in Washington, D.C., and in all 50 state capitals. NFIB is a nonprofit, nonpartisan, and member-driven association. Since its founding in 1943, NFIB has been exclusively dedicated to small and independent businesses and remains so today. For more information, please visit nfib.com.
NFIB Minnesota
180 East Fifth St., Suite 260
St. Paul, MN 55101
651-293-1283
www.nfib.com/mn
Twitter: @nfib_mn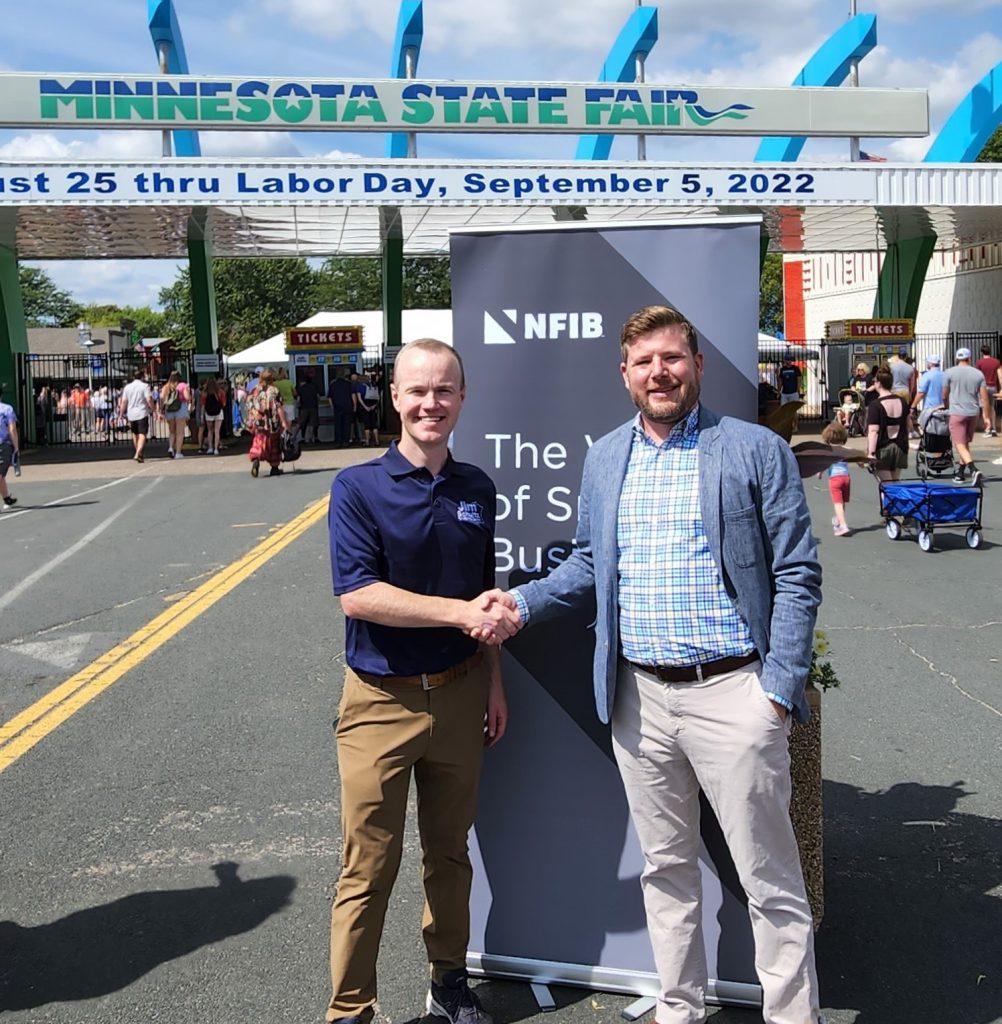 Jim Schultz, left, NFIB Minnesota State Director John Reynolds, right