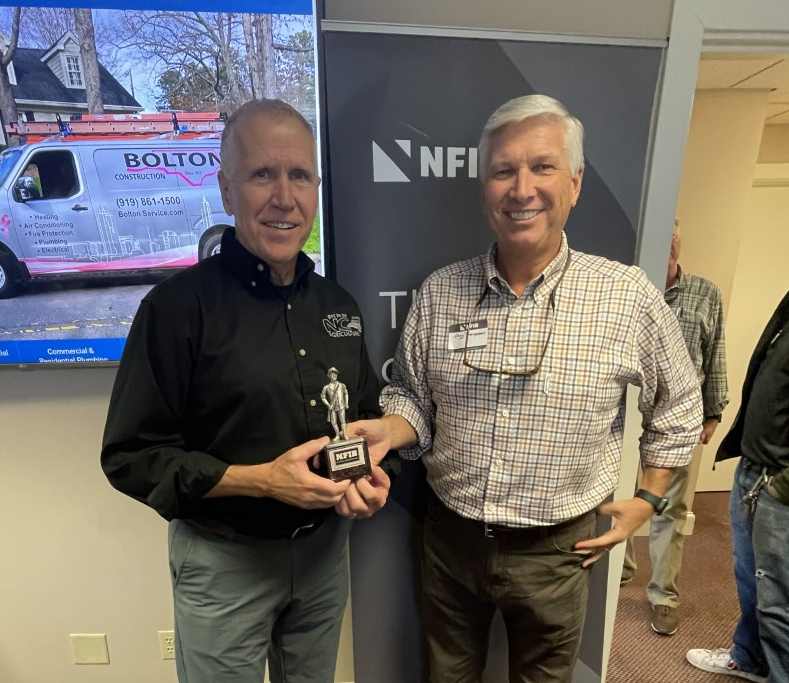 NFIB has presented U.S. Sen. Thom Tillis with the Guardian of Small Business Award, the organization's most prestigious legislative recognition. State Director Gregg Thompson presented the award to Tillis on Oct. 18 at a small business roundtable held at Bolton Construction and Service LLC, an NFIB member business in Raleigh.
"Senator Tillis has been a tireless advocate for small business going back to his days as a member of the General Assembly," Thompson said. "Senator Tillis earned a 100% NFIB voting record in the 117th Congress, voting with small business on issues ranging from tax relief to extending the Paycheck Protection Program so local businesses could continue to pay their employees during the worst days of the pandemic.
"On behalf of our small businesses here and throughout the state, I am proud to present this award to Senator Tillis," Thompson said. Click here for a complete list of the NFIB Guardian of Small Business Award recipients from the 117th Congress.
The Guardian of Small Business Award is reserved for lawmakers who vote consistently with small businesses on key issues identified by small business owners. NFIB informs lawmakers in advance which votes will be considered NFIB Key Votes and asks lawmakers to support the consensus views of our membership. We also remind them that the results will be reported back to the NFIB membership.
During the roundtable, Senator Tillis talked to NFIB members about a host of federal issues including inflation and regulatory reform. "We truly appreciate the senator for taking time to engage with our members about the issues that affect their ability to own, operate, and grow their businesses," Thompson said.