FOR IMMEDIATE RELEASE
(CONCORD, NH) October 31, 2022 – The National Federation of Independent Business (NFIB), New Hampshire and the nation's leading small business advocacy association, today announced that its NFIB NH PAC has endorsed Gov. Chris Sununu for re-election. The announcement took place this afternoon with the governor at NFIB member business MegaPrint in Holderness.
"As the New Hampshire State Director for NFIB and its more than 1500 members who own and operate small businesses across the Granite State, I am proud to announce on their behalf this afternoon the National Federation of Independent Business' endorsement of Governor Chris Sununu for re-election as New Hampshire's governor for the next two years," announced NFIB State Director Bruce Berke at the event. "Governor Sununu has worked tirelessly these last six years creating a positive economic environment for businesses to grow and prosper. The Governor has been a consistent, steady leader at the helm of state government through some very challenging times and yet, he and his administration were able to reduce business taxes; eliminate old and unnecessary regulations; and push back on crippling mandates that would tell businesses how to operate."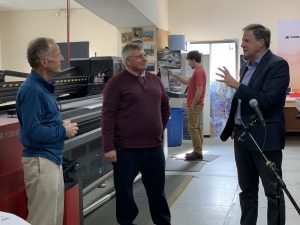 "New Hampshire weathered the pandemic as well or better than any other state in the country," continued Berke. "Despite negative news from Washington, New Hampshire's economy continues to be the model for the northeast and perhaps the country."
"It is my pleasure to welcome the Governor to MegaPrint today for purposes of receiving the endorsement of NFIB NH for his re-election," said Tim Corbitt, President of MegaPrint and an NFIB member. "Governor Sununu has been in the trenches as a businessperson and understands the challenges small businesses face every day. The Governor's leadership these last two years, and frankly during all three terms in office, has been about lifting up people and through the economic policies he has pursued, individuals and small business now live and operate in a state that offers more opportunity to succeed and thrive."
The endorsement of Gov. Sununu comes from the NFIB NH PAC, the association's state political action committee, and is driven by members of the small business community. Small-business owners and their employees vote in high numbers and are known for actively recruiting friends, family members, and acquaintances to go to the polls. NFIB will encourage more than 1500 of its business members in New Hampshire to help turn out the small-business vote for NFIB New Hampshire PAC-endorsed candidates in the General Election.
###
For nearly 80 years, NFIB has been advocating on behalf of America's small and independent business owners, both in Washington, D.C., and in all 50 state capitals. NFIB is nonprofit, nonpartisan, and member-driven. Since our founding in 1943, NFIB has been exclusively dedicated to small and independent businesses, and remains so today. For more information, please visit nfib.com.