"We support legislators who support small business with their votes."
FOR IMMEDIATE RELEASE
June 8, 2022 (LANSING) – NFIB, the state's leading small business association, announced that its Michigan PAC has endorsed incumbent legislators running for reelection in state House and Senate races this year.
Small businesses in Michigan have faced unprecedented challenges the last two years. Skyrocketing costs for labor and materials, all while trying to recover from government shutdowns, has demonstrated that now more than ever, small businesses need strong advocates in the Legislature.
"These legislators have proven to be strong advocates for small business. They have been willing to fight for the rights of our members to own, operate, and grow their businesses," said Amanda Fisher, NFIB Michigan State Director. "They are committed to making this state a better place to raise a family and own a business."
State legislative endorsements are decided by the NFIB MI PAC Board, which is made up exclusively of small business owners. Legislative endorsements, where there is an incumbent, are based on the 2021-22 NFIB Voting Record. Legislators must have a score of 70 percent or better to be considered for an endorsement. Click HERE to view this session's vote record.
The NFIB MI PAC endorsement is important to legislative candidates due to the impact small business owners have in our state and country. Small business owners and their employees vote in high numbers and are known for actively recruiting friends, family members, and acquaintances to go to the polls.  
Today's announced endorsements are listed below and can also be viewed and downloaded HERE.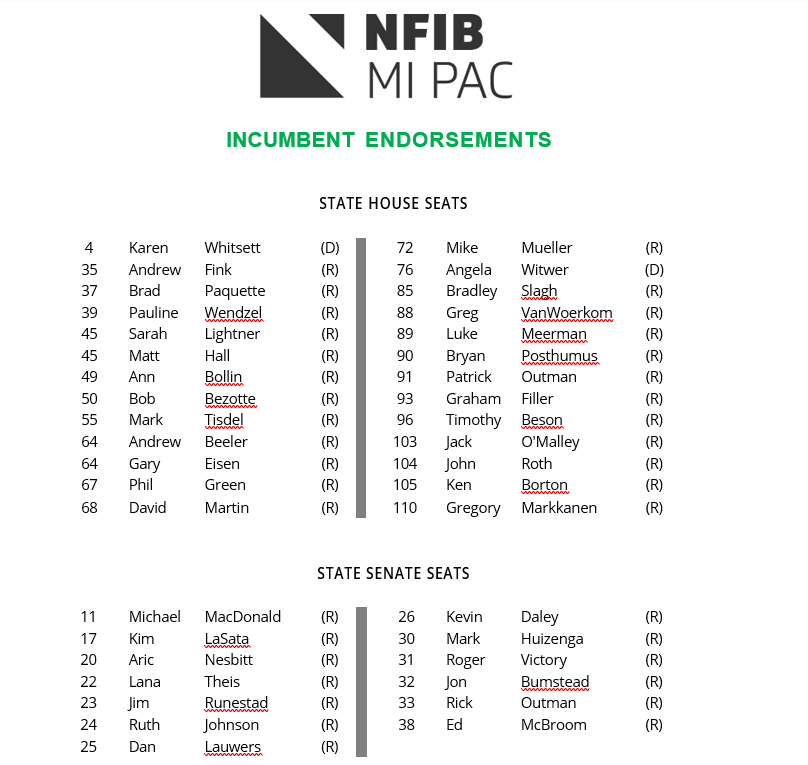 ###
 For more than 75 years, NFIB has been advocating on behalf of America's small and independent business owners, both in Washington, D.C., and in all 50 state capitals. NFIB is nonprofit, nonpartisan, and member-driven. Since our founding in 1943, NFIB has been exclusively dedicated to small and independent businesses, and remains so today. For more information, please visit nfib.com.