Legislators making contingency plans—Rumors of an early adjournment swirl around State Capitol
State Director Ronda Wiggers reports from Helena on the small-business agenda for the legislative and political week ending April 9
We are now at the point in the session when we attempt to guide our bills across the finish line and have some input in the conference committee decisions. The Senate put its mark on House Bill 2, the state budget, and now the House will reject their amendments, sending it to a conference committee to iron out the details. All of the companion spending bills will then follow behind.
House Bill 628, appropriating the COVID-19 recovery funds, has been heard in the Senate Finance & Claims Committee. The committee will make its suggested changes to it in the next few days, and it will follow the same route as HB 2. This bill is requiring a little extra wordsmithing, as the federal guidelines have not yet been published. Committee members need to create a plan that is both flexible enough to react to the final guidelines and with enough sideboards that the legislative branch feels they have some control over how the money is allocated.
And those federal guidelines bring me to our tax bills.  An amendment was added to the federal legislation that forbids a state to lower taxes if they take the COVID-19 recovery funds. Ohio has challenged this in court and many states, including Montana, have joined that lawsuit. NFIB has also filed an amicus brief in the case.  However, as it stands right now, our tax cut bills are in limbo.  The rumor in the halls – and at this point in the session, there are more rumors than people – is that we will go ahead and pass the tax bills with contingency clauses. What this means in real people language is that the tax cuts will become effective either when the federal government reverses its position; the courts rule in our favor; or the clock runs out on the COVID-19 funds. There is a possibility that we do not actually see any of these tax changes for three years!
I do not believe we have any bills left on our list that will have another hearing or require testimony.  It is now all about rallying the final vote on the floor, monitoring the activities of the conference committees, and encouraging the governor to sign.
NFIB-Supported Bills Still in the Process
Legislation NFIB is Monitoring
NFIB took no official position on the following bills during the session for a variety of reasons. I will monitor these and report the final outcome so that you are aware of potential changes to the law that may affect your business.
The above 14 bills will keep us busy for the next few weeks. Legislators officially have 22 days left to finish their work. Adjournment is scheduled for May 11.  However, that rumor mill, remember them from above, is indicating we may be done by May 1. Having done this for a number of sessions, I know not to make plans based on the rumor of an early out.
Previous Reports and Related News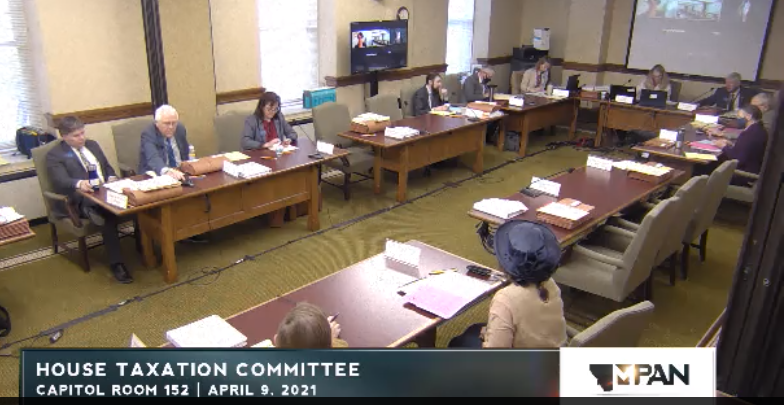 Photo snip courtesy of the Montana Public Affairs Network