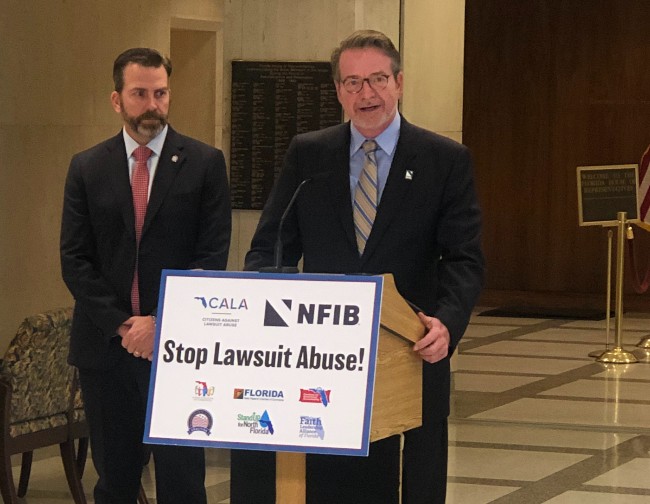 NFIB and Citizens Against Lawsuit Abuse (CALA) held a news conference today to release economic reports that detail the excessive tort costs in Florida's major cities.
"It doesn't look like the litigation industry is held back by any supply chain problems," NFIB State Executive Director Bill Herrle said.
A study conducted by The Perryman Group for CALA estimates that the economic impact of excessive torts in Florida works out to $812.52 a year per person. The economic impact, or "tort tax," ranges from a high of $1,978.54 per person in Massachusetts to $440.30 per person in Mississippi. 
"Florida is doing better than a lot of other states, but excessive torts are serious problems that must be addressed," Herrle said.
Lawsuit abuse is among NFIB's top priorities in this year's session of the Florida Legislature. Click here to read NFIB's legislative agenda.
"Small businesses tend to operate on thin profit margins. They don't have teams of lawsuits on the payroll to defend them against every nuisance suit or false accusation. The cost of defending themselves against even one frivolous lawsuit could put them out of business," Herrle said.
"Our members are encouraging their legislators to help Florida's small businesses by stopping predatory practices such as third-party litigation financing and jury awards that are based on inflated and even fictional medical costs and balancing the scales of justice."