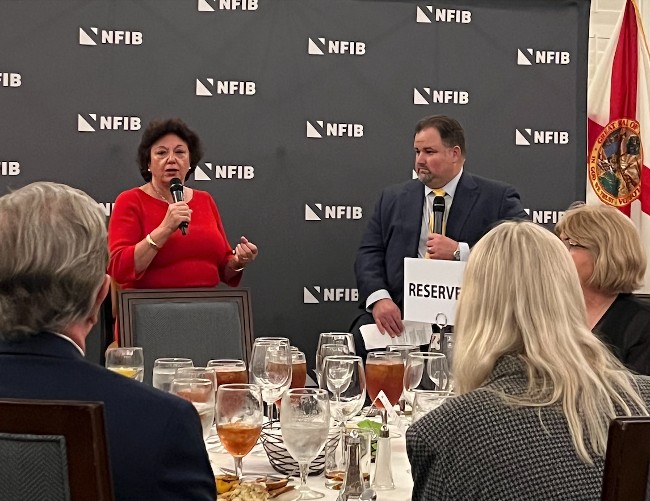 Small business owners from throughout the state traveled to Tallahassee on Wednesday to urge their legislators to support tort reform and other legislation that would help local employers not only survive the current economic slump but eventually grow and create jobs.
The meetings were organized by NFIB as part of the small business advocacy organization's annual Small Business Day at the Capitol.
"We had a great turnout and delivered a strong message to our elected leaders," NFIB State Executive Director Bill Herrle said. Other issues on this year's small business agenda include opposing H.B. 1227, legislation that would make it harder for small businesses to compete online.
"Small business is the foundation of Florida's economy," NFIB State Legislative Director Tim Nungesser said. "Our hope is that the Florida Legislature will continue to maintain an environment that helps small businesses continue to grow."
Speakers at this year's Small Business Day and Small Business Day dinner included incoming Senate President Kathleen Passidomo, current Senate President Wilton Simpson, and state Chief Financial Officer Jimmy Patronis. Other speakers included:
· Rep. Toby Overdorf (HD83) 
· Rep. Tom Leek (HD25) 
· Rep. Andrew Learned (HD59) 
· Rep. Tommy Gregory (HD73) 
· Rep. Andrew Learned (HD59) 
· Rep. Bobby Payne (HD19) 
· Rep. Blaise Ingoglia (HD35) 
· Rep. Webster Barnaby (HD27) 
· Rep. Tyler Sirois (HD51) 
"This year's Small Business Day was informative and productive, and we're hopeful the legislature and Governor DeSantis will continue their long tradition of standing with Florida's job creators," Herrle said.