Targeted Radio and Digital Ads Begin This Week in Southern Minnesota, Encouraging Voters To Support Finstad's Election To Congress
ST. PAUL, Minn. (August 2, 2022) –The National Federation of Independent Business (NFIB) Federal Political Action Committee, the political arm of the nation's leading small business advocacy organization, announced today a paid advertising campaign including radio and digital ads in Minnesota's First Congressional District. The ads encourage voters to support Brad Finstad for Congress in the Congressional special election and Republican primary on Tuesday, August 9.
"Brad Finstad will be a strong small business voice in Congress, and NFIB is proud to support him," said John Reynolds, NFIB Minnesota State Director. "As a small business owner and fourth-generation farmer, Brad has a proven record of defending Main Street. He will be a reliable ally for small businesses in Congress, and we encourage voters in Minnesota's first district to support Brad Finstad this upcoming Tuesday."
Listen to the radio ad here: https://youtu.be/xyUvQ9F_gqE
View the digital ads below: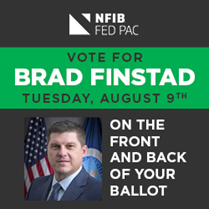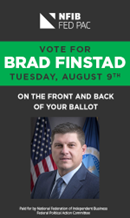 The endorsement and support is issued from NFIB FedPAC, NFIB's political action committee. NFIB FedPAC is funded by voluntary contributions by NFIB members over and above their membership dues. Decisions made by the NFIB FedPAC are managed by a member-driven grassroots evaluation.