The NFIB Research Center released its latest COVID-19 survey on the impact the pandemic has had on small businesses. This survey marks NFIB's 16th survey in the series, which started in early March 2020. Thirteen percent of small business owners report that they will have to close their doors if current economic conditions do not improve over the next six months, down from 25% in December.
In Merrillville, Jason Smith describes the past year as a wild roller coaster ride. When the pandemic hit, business at his two automotive repair shops dropped 80%. Then came the frustrating process of securing a Paycheck Protection Program loan. Smith even tried to refinance his home he was so desperate to secure money to pay his employees. People weren't driving, they were scared to spend money, and they weren't bringing their cars to M & M Car Care for servicing. Even more concerning to Jason: his brand-new and second location in Schererville was already struggling.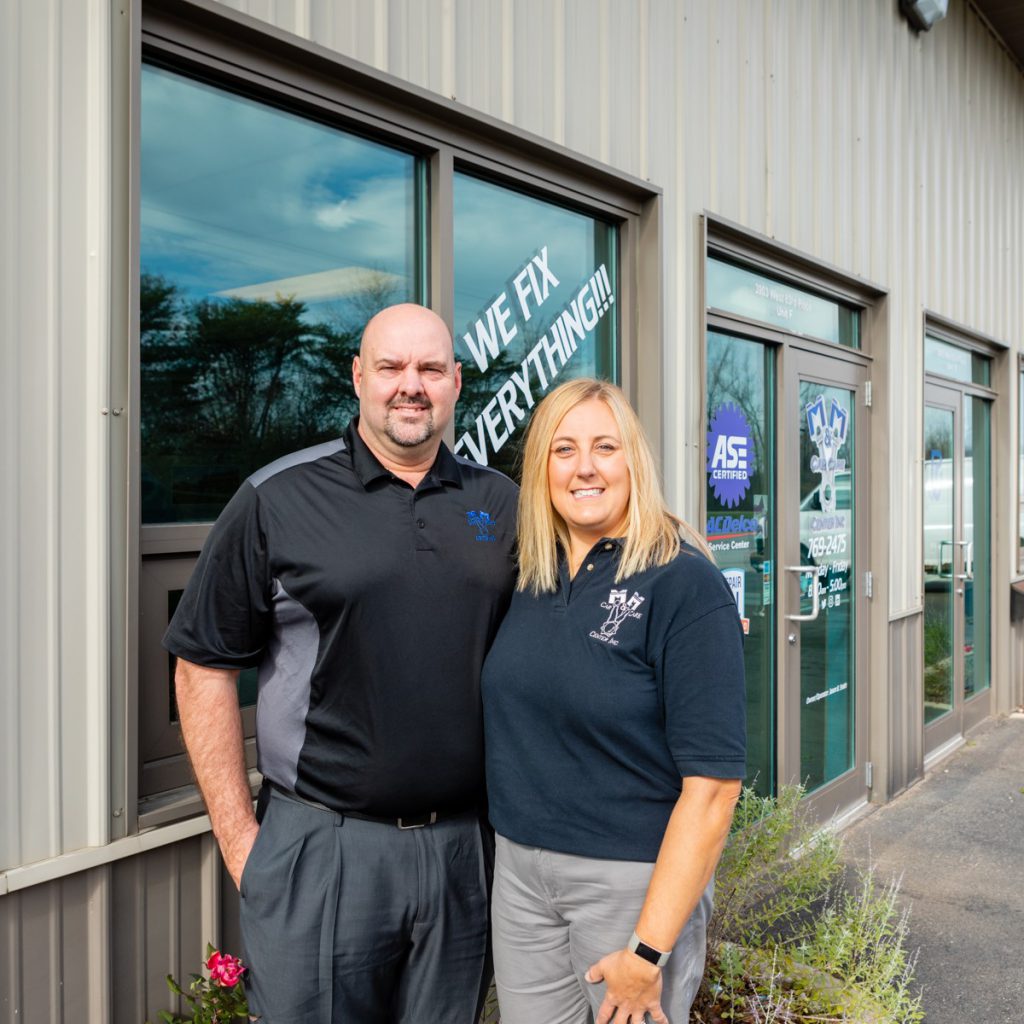 Jason and his wife pose outside their Merrillville store, M & M Car Care.
"I knew that I needed to adapt and change. As a small business owner, I am responsible for my 12 employees. I provide them a paycheck and job security and I knew they were scared when the pandemic hit. Instead of being scared myself, my wife and I rolled up our sleeves and started brainstorming: what can we do to bring in business?" said Smith.
Jason and his wife started a drop off and pick up service. They would sometimes drive up to 20 miles out of the way to pick up a car for an oil change. The endeavor didn't provide a lot of revenue, but as Jason says, "we had to do what we had to do." The husband-and-wife team also offered free oil changes to first responders and supported other small businesses in the area by giving their customers a gift card for a free lunch to those small businesses with the purchase of an oil change.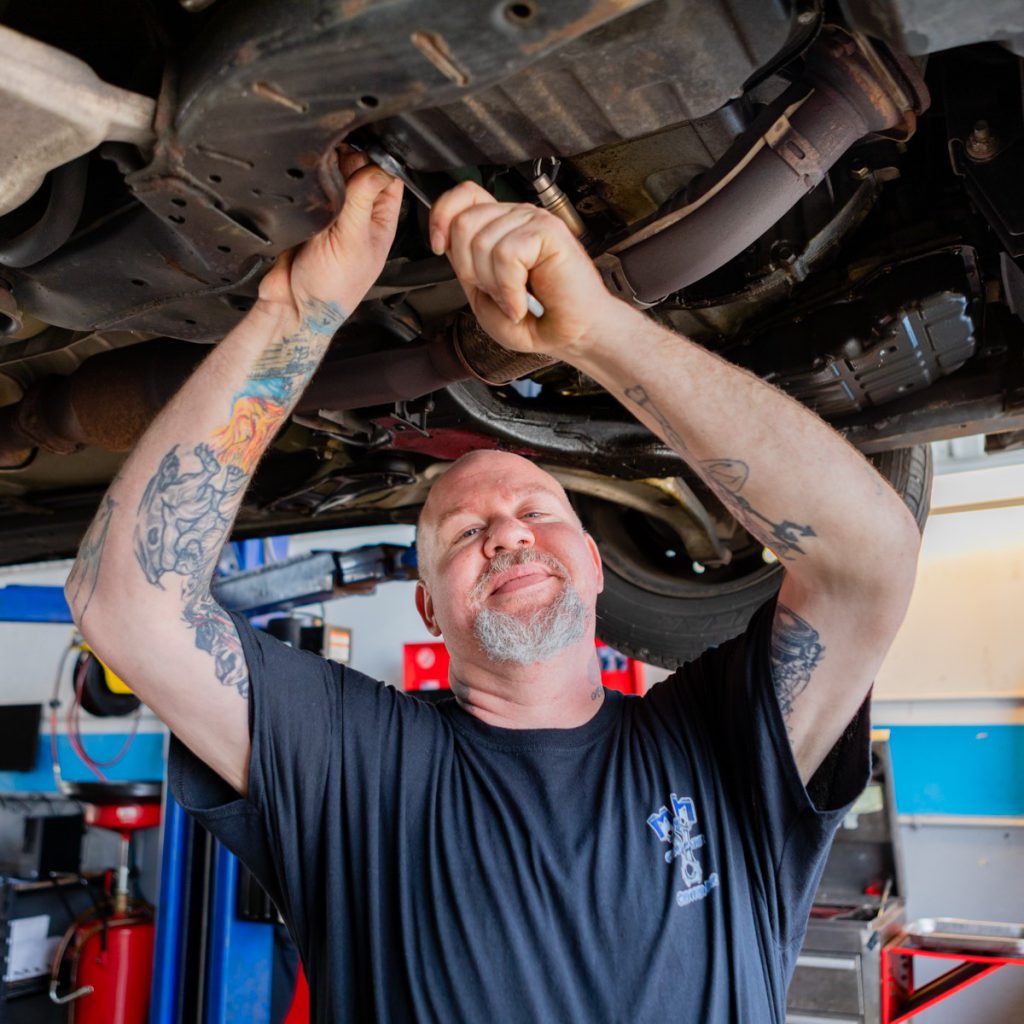 One of Jason's employees smiles as he works on a car at M & M Car Care.
"Yes, we were hurting but so was everyone. What's the point of community when you can't come together to help each other out during tough times? It brought our community together and pretty soon people were reaching out to ask me how they could help."
Between two rounds of PPP loans and community awareness, Smith's business was back to normal by July. He's been able to keep all 12 of his employees on the payroll. He's grateful to the PPP loans because had he not secured them, he would have had to lay off some workers. Smith says had that happened, it would have been hard to re-hire them once he was back up and running because they would be on unemployment. Smith is proud that he was able to provide his employees with not only a paycheck, but health insurance in the face of the pandemic. He's even hired two new employees from a different auto repair shop who did not have health insurance before.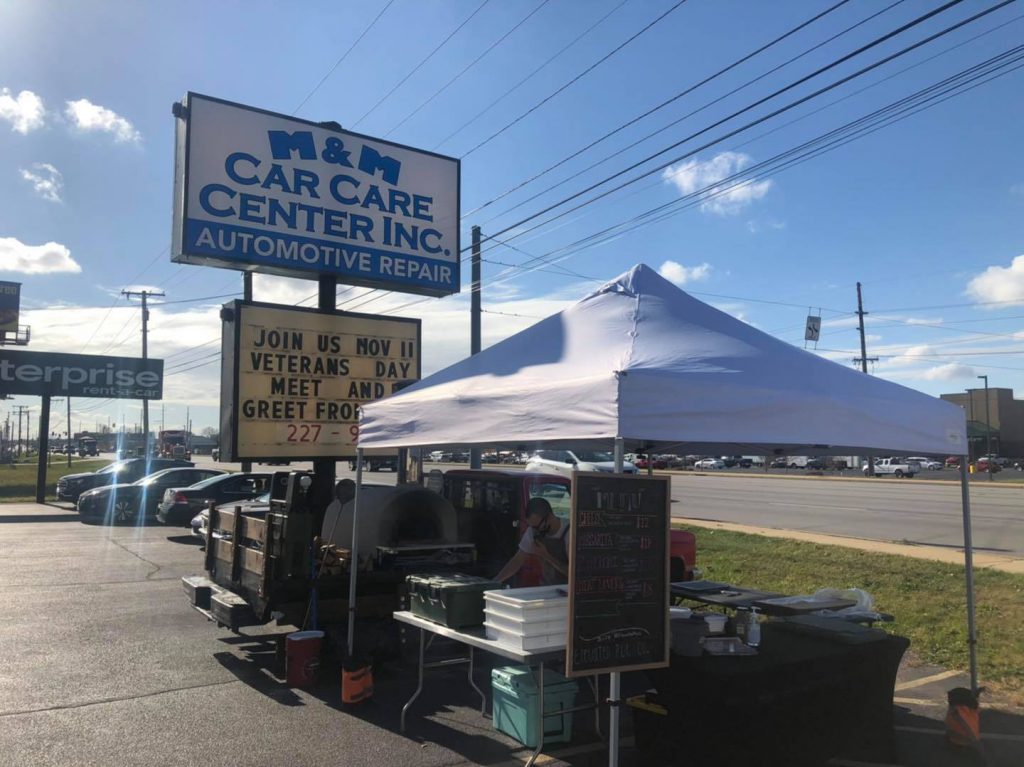 To stay afloat during the pandemic, Jason gave veterans free oils changes.
"It may seem like baby steps to many small businesses, but there is some improvement in the economy and the economic outlook. It may seem odd to say this, but things are not as terrible as they were in December," said Barbara Quandt, NFIB State Director in Indiana. "Three months ago, 25 percent of small business owners said they would have to close if there wasn't improvement within 6 months. Now that number is only 13 percent. And while 13 percent is still a huge number, representing thousands of Hoosier businesses, it is a step forward."
Key findings include:
Almost three-quarters (74%) of 2020 Paycheck Protection Program borrowers have applied for loan forgiveness.
Twelve percent of borrowers are not yet ready to apply for forgiveness and 16% are ready but their lenders are not yet accepting applications.
Seventy-three percent of those who have applied for PPP loan forgiveness have received final confirmation of their approved forgiveness amount from the SBA.
The CAA reopened the PPP application and of those owners who did not receive a first-draw PPP loan in 2020, 20% have applied for a first-draw PPP loan.
Fourteen percent are planning to apply or are considering applying.
The remaining 66% are not planning to apply for a first-draw PPP.
Of those businesses who received a first-draw PPP loan in 2020, 42% have already applied for a second-draw PPP loan and 2% are planning to apply for one.
Another 7% are considering whether to apply for a second-draw PPP loan or not.
Seventy-eight percent of those who have applied for a second-draw PPP loan have been approved and 1% were denied.
Eighteen percent have not yet heard from their lender.
The 25% reduction in gross eligibility rule was the main factor for about three-fourths of those first loan PPP borrowers in not applying for a second-draw PPP.
Another 17% were eligible but didn't want to take a second loan.
The America Rescue Plan Act of 2021 extended the Employee Retention Tax Credit (ERTC) through the end of 2021, however, still very few employers know that it exists.
Only 7% of small business owners are very familiar with the program and another 35% are somewhat familiar.
Seventeen percent of small employers have taken or plan to take advantage of the tax credit in 2021.
Nearly half (47%) of small employers report that they might take advantage of the tax credit in 2021, presumably after they learn more about the program.
Sales levels are 50% or less than they were this time last year (2020) for 22% of small businesses with another 21% at sales levels of 51%-75% of pre-crisis.
Thirty-five percent of owners are back or nearly back to where they were with sales between 76%-100% of levels in 2019 with another 23% exceeding sales levels during this time in 2019.
Thirteen percent of small business owners report that they will have to close their doors if current economic conditions do not improve over the next six months, down from 25% in December.
Fifteen percent of owners anticipate they will be able to operate no longer than 7-12 months under current economic conditions.
Just under three-fourths (72%) are better situated and do not anticipate any near-term problems.
The economic outlook has improved slightly over the last few months with 11% of owners reporting that conditions are back to normal now, a six-percentage point improvement from late January.
Twelve percent of owners anticipate it taking until the first half of 2021 for economic conditions to improve and 34% anticipate sometime in the second half.
About one-third (32%) of owners are less optimistic and expect conditions not to fully improve until sometime in 2022 and 11% after 2022.
Almost half (44%) of owners have had an employee take COVID-19 related sick or family leave.
Of those employers, 81% offered paid leave to all or some of those employees taking Covid-19 related leave and 42% of them have claimed the tax credit for reimbursement of those costs.
As more of the general population are eligible to get the vaccine, 45% of small employers will encourage their employees to get vaccinated and 2% report that they will require their employees to be vaccinated.
Another 5% of small employers are considering encouraging or requiring the vaccination.
Twenty-six percent of small business owners have been vaccinated and another 23% plan to get vaccinated as soon as it's available to them. Sixteen percent report that they will also get vaccinated, but not right away.
Thirty-five percent report that they will not get vaccinated, lower than the 44% who reported the same in December.
As the minimum wage debate continues, there has been discussion on those employees who receive tips as part of their overall compensations. About 7% of small employer firms have employees who receive tips.
About one-third of these firms report that all of their employees receive tips as part of their compensation with another 39% of employers reporting that between 50-99% of their employees receive tips.
Half of small employers with tipped employees report that employee tips make up less than one-quarter of their overall salary.
About 30% say that tip make up between 25-74% of overall salary and just 9% report that tips generate 75% or more of their employees' salaries.
Over half (53%) of those with tipped employees are in the restaurant industry.
This publication marks NFIB's 16th Small Business COVID-19 survey assessing the health crisis impact on small business operations, economic conditions, and utilization of the targeted small business loan programs. The first series was published in early March 2020 with subsequent publications every 2-4 weeks, found here. The full survey of the 16th edition is available here.