Torrington Small Business Owner Faces Additional Taxes in Face of COVID-19 Crisis
Today, NFIB, or the National Federation of Independent Business here in Connecticut, joined other small business organizations to call on the state to use federal relief funds to address Connecticut's unemployment debt crisis.
CBIA, the NFIB, the Connecticut Restaurant Association, the Connecticut Food Association, and the Greater New Haven Chamber of Commerce urged the Lamont administration and the legislature to move quickly to address the issue.
Employers are solely responsible for repaying the $700 million—plus interest—the state has borrowed from the federal government to pay pandemic-related unemployment compensation benefits.
The total amount of those loans—made necessary after the state's Unemployment Compensation Trust Fund became insolvent—is likely to exceed $1 billion.
Connecticut has recovered just 58% of the 292,400 jobs lost last March and April to COVID-related shutdowns and restrictions. The state's unemployment rate is 8.5%, New England's highest and well above the U.S. rate of 6.2%.
Connecticut was one of the last states to pay off its federal loans after the 2008-2010 recession, with employers burdened by six years of higher taxes and special assessments.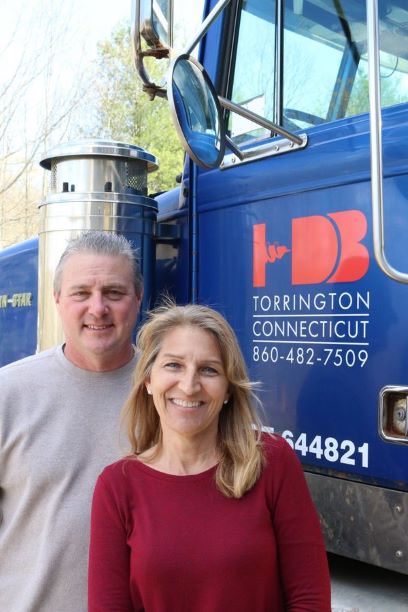 Wendy and her husband pose outside their business, Hemlock Directional Boring.
Of note, 24 states are using federal coronavirus relief funds to either help meet unemployment benefit obligations or pay down the principal on their federal loans.
Wendy Traub and her husband own a directional drilling company in Torrington and have been in business for over 25 years.
When COVID became prevalent last spring, Hemlock Directional Boring was just gearing up for a busy year, only to be told that although construction was considered essential work, all of their contracted projects were put on hold, or potentially cancelled. This left their small business with no revenue for the majority of the first eight months of 2020.
"Just as most Connecticut businesses are opening back up, we are now being told that because the State unemployment fund has been emptied, and the state borrowed money from the Federal government, small business owners like myself will most likely be charged special assessments to pay the interest back. About one third of small businesses closed because of the COVID-19 pandemic. The rest of us are pressing forward, determined to successfully rebound. State lawmakers need to do the right thing and direct a portion of the Federal COVID relief funds to address the unemployment debt crisis. This sends a message to the business community that economic recovery works best when the State supports the job creators."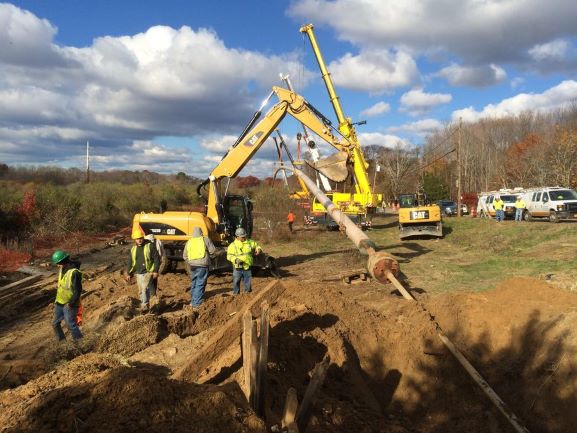 Wendy's employees at Hemlock Directional Boring at work on a jobsite.
"The COVID-19 pandemic hit small businesses harder than it did large ones, and while a recovery here in Connecticut has slowly begun, it is uneven and fragile. Many states have depleted their unemployment insurance trust funds, including Connecticut, where the fund is down almost 90% from a year ago. The state is now borrowing hundreds of millions of dollars," said Andrew Markowski, NFIB State Director in Connecticut.  "Small business owners are asking Connecticut lawmakers to do what at least 24 other states have already done: use some of the more than $2.65 billion in federal money Connecticut will receive to replenish the state's Unemployment Insurance trust fund.  Without a significant infusion of money, small business owners will be faced with devastating tax hikes, special assessments and surcharges like they were post-2009.  By committing federal money to our state's UI fund, lawmakers can avoid placing higher costs on job creators at a time when they can least afford it." 
The COVID-19 pandemic hit small businesses harder than it did large ones, and while a recovery has begun, it remains uneven and fragile. But many states have devastated unemployment insurance trust funds and intend to place the burden of recovery on small business by increasing taxes. The funding that will be provided from the American Rescue Plan Act, signed into law March 2021, will create an opportunity for states to replenish their UI trust funds and provide a path of recovery for small business. 
The CARES Act, which was signed into law in March 2020, provided an estimated $150 billion in direct aid to state and local governments. Almost half of all states ended up using money from the CARES Act to help their UI trust funds.