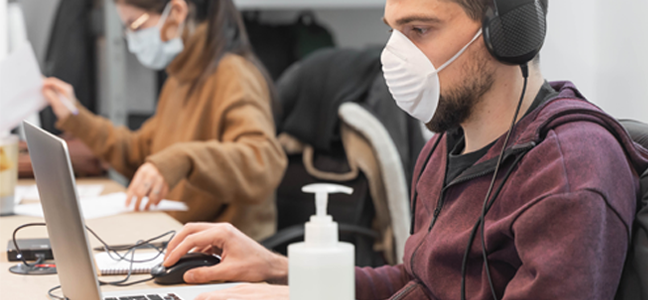 On January 29, 2021, the U.S. Department of Labor, through the Occupational Safety and Health Administration (OSHA), released new guidance aimed at protecting workers from exposure to COVID-19.
The new workplace safety guidance is the first implemented by the Biden Administration and aims to help employers implement a coronavirus prevention program. OSHA's new guidance recommends this prevention program include the following 16 elements:
Assignment of a workplace coordinator to deal with COVID-19 issues.
Conduct a COVID-19 exposure hazard assessment.
Identify measures that will limit the spread in the workplace.
Consider protections for high-risk workers or those with a severe illness, by offering supportive policies, practices, and reasonable modifications to the work environment.
Create an effective communication system for relaying COVID-19 information.
Educate and train workers on COVID-19 policies and procedures.
Tell workers who are infected or potentially infected to stay home and quarantine.
Promote practices such as teleworking and use of paid sick leave that minimize the negative impact of quarantining.
Isolate workers showing symptoms at work.
Perform enhanced cleaning/disinfection if a person confirmed or suspected of having COVID-19 was in the workplace.
Provide guidance on screening on testing.
Record and report COVID-19 infections and deaths.
Implement procedures and protections so workers do not fear retaliation from expressing COVID-19 concerns.
Provide information on the benefits and safety of the COVID-19 vaccine.
Ensure the workplace does not distinguish between vaccinated and non-vaccinated employees.
Follow other applicable OSHA Standards: All of OSHA's standards that apply to protecting workers from infection remain in place.
In addition, the guidance includes other protections to help stop the spread of COVID-19, such as physical distancing protocols and using surgical masks or cloth face coverings. It also provides guidance on use of personal protective equipment, improving ventilation, good hygiene, and routine cleaning.
While the guidance creates no new legal obligations for employers, it does contain the best recommendations to keep employer spaces safe and contains some already-existing mandatory standards.
The DOL issued a news release on the new guidance, and the guidance in its entirety can be found here. Employers with additional questions can reach out to the NFIB Small Business Legal Center at [email protected].
Updated 02/04/21