How did they treat small business through the first year of the 117th Congress? Keep track of how your Member of Congress voted on small business priorities in 2021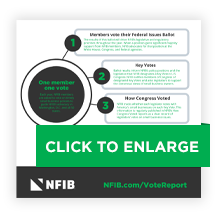 In keeping with our commitment to monitor key small business votes that lawmakers cast, NFIB's interim report for the current Congress is now available for small business owners to review. NFIB's latest How Congress Voted report offers the voting information needed to easily understand which lawmakers voted for top small business priorities during 2021. Looking ahead to another season of elections, this report cuts through the rhetoric of campaigns and looks at the hard facts: how your U.S. Senators and Representatives voted on small business issues in 2021.
An important part of advocating for small businesses is holding Members of Congress accountable for the way they vote on key small business issues. Twice each year, hundreds of thousands of NFIB members are asked to vote in NFIB's one member, one vote system on timely small business policies, answering questions about their positions on small business legislative and regulatory issues. Small business owners' responses to annual ballot questions guide NFIB's policy positions at a state and federal level.
The results of NFIB's federal balloting system determine the legislation that NFIB designates a Key Vote in the U.S. Congress. NFIB asks legislators to support these consensus views of small business owners and reminds lawmakers their votes are being monitored and reported to NFIB members. This element is key to NFIB members, so they can easily stay informed on which lawmakers support pro-small business policies and who they should consider supporting in future elections.
Lawmakers who voted with small business on key issues at least 70% of the time during the previous Congressional session (116th Congress) earned NFIB's Guardian of Small Business Award.
As elections approach, now is a great time to review if your Member of Congress voted for small business priorities in 2021 and use the real-time current 117th Congress scorecard to stay up to date throughout the summer on how they are voting. NFIB members who haven't yet voted on the latest federal ballot can still vote now, by logging into their account at NFIB.com/votemyballot.