"One Member, One Vote" process drives NFIB's priorities, holds lawmakers accountable for their votes, and encourages members of Congress to prioritize the needs of small business
As a small business owner, each year NFIB asks you to voice your opinion on key federal policies. As part of NFIB's One Member, One Vote program, NFIB will release the newest members-only Federal Ballot on March 10. With a selection of major issues that matter to Main Street, this ballot will drive NFIB's federal advocacy in the months ahead and will help NFIB identify Key Votes to hold lawmakers accountable for voting with America's small businesses on important legislation.
The federal ballot that will be published next week – #580 – is only available to NFIB members. If you are not an NFIB member, join today to be prepared to vote the upcoming members-only ballot.
One Member, One Vote Program
NFIB's member ballot system has been an effective way to determine member's priorities for more than 75 years. Every member gets one vote on the issues. No exceptions. This highly democratic system has served small businesses well. NFIB members typically vote on key issues in several ballots each year on the federal and state policy positions NFIB should take.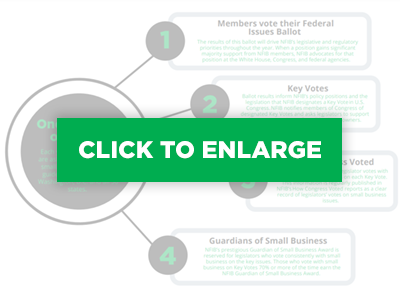 The newest federal ballot features five issues. All are expected to be major legislative and regulatory issues at the federal level in the coming year. The list includes:
Worker Shortage
Overtime Pay Regulations
Taxes
Big Tech and Antitrust
Wage and Hour Compliance Assistance
On each issue, small business owners can vote "yes" or "no" to indicate whether they support or oppose it. When an issue gains significant majority support, NFIB's Federal Government Relations team takes that message from NFIB members to the White House, Congress, and federal agencies.
The ballot results also enable NFIB to track how Members of Congress vote, establishing "Key Vote" alerts on the relevant issues. Legislators who vote with small business on key issues 70 percent or more of the time earn NFIB's Guardian of Small Business Award. 
Voting on NFIB's upcoming Federal Issue Ballot begins March 10. Members can cast their votes by logging in to their account at NFIB.com/votemyballot.
Non-members can join NFIB right away – the sign-up process takes only a few minutes. Filling out the ballot will take only a few minutes more – but it will shape NFIB's efforts and impact for months to come.