PPP Loan Amounts Readjusted for Self-Employed Individuals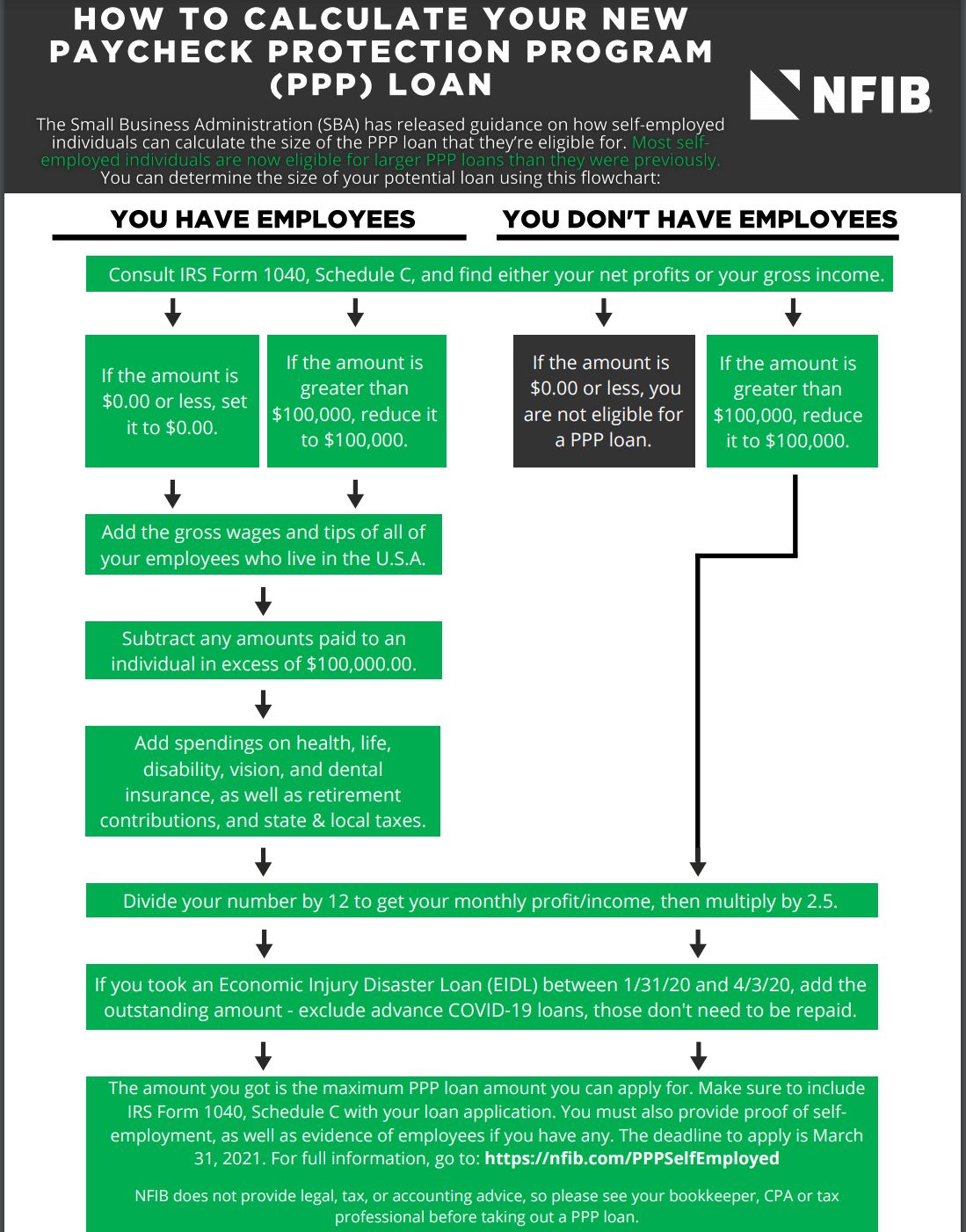 Update: On Tuesday, March 30, 2021, the PPP Extension Act of 2021 was signed into law. It extended the application deadline for PPP loans to May 31, 2021, or until funds run out. 
Paycheck Protection Program (PPP) loans have been significant to the survival of small businesses, many of which are still imperiled by the COVID-19 pandemic and government-mandated business restrictions. Bipartisan legislation – the PPP Extension Act of 2021 – passed both chambers of Congress this month, extending the PPP application deadline from March 31, 2021 to May 31, 2021. NFIB announced this bill is an NFIB Key Vote for members of the U.S. House of Representatives and U.S. Senate.
Hundreds of billions in federal funds have been dedicated to PPP loans, most recently in the Consolidated Appropriations Act of 2021 that passed in December 2020 and the American Rescue Plan Act that passed earlier this month. The program also continues to evolve, such as the recent expansion of loan amount eligibility for self-employed business owners.
The PPP Extension Act of 2021 extends the loan application deadline to May 31, 2021, ensuring that small business owners have an opportunity to get the assistance their business needs. The legislation would also extend the period to process pending applications by 30 days after May 31, to prevent any small business from being harmed by the processing delays that have been a shortcoming of the PPP. The U.S. Small Business Administration testified this week that funding could run out mid- to late-April, so small business owners considering applying should do so as soon as possible. Approximately $50 billion in funding remains available for PPP loans.
NFIB research shows that while small businesses have begun to recover from the pandemic, many are still in a vulnerable position. Thirteen percent of small businesses will have no choice but to close their doors if economic conditions do not improve in the next six months.
In a letter to Congress, NFIB Vice President of Federal Government Relations Kevin Kuhlman argued for an extension to the PPP. "Unfortunately, the timeframe for making decisions regarding a first or second draw PPP loan after passage of the Consolidated Appropriations Act of 2021 has been short, particularly as Congress and the Administration have recently made additional changes to the program," Kuhlman wrote.
The PPP loan program was updated recently with a new adjustment that benefits self-employed individuals. This group of business owners is now eligible for larger PPP loans, thanks to a rework of how the loans are calculated. These small business owners need more than just a few weeks to determine whether a readjusted PPP loan could benefit their business.
To learn the full details on how PPP loans for self-employed individuals are now calculated, you can read NFIB's guide here or consult this infographic.
NFIB recently held a webinar on recent changes to the PPP and other economic relief measures aimed at small businesses, including the $1.9 trillion American Rescue Plan COVID-19 relief bill. You can view the free webinar here.