NFIB Small Business Growth Agenda for the 118th Congress
Top Legislative Priorities
NFIB provides members of Congress with a pro-small business legislative agenda for the issues that warrant lawmakers' consideration during this two-year session of Congress. The Small Business Growth Agenda for the 118th Congress includes five key policy areas and the specific policy positions within the agenda are based on the positions of small business owners collected through NFIB's "one member, one vote" balloting system.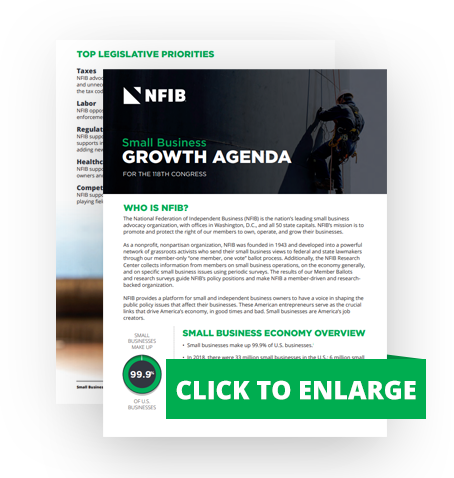 To read the entire NFIB Growth Agenda for the 118th Congress, click here.
TAXES
NFIB advocates to protect small business owners from tax increases, burdensome paperwork, and unnecessary audits; make permanent the helpful small business and individual provisions of the tax code; and restore lower corporate taxes for smaller businesses.
NFIB Supports
Making the Small Business Deduction permanent
Reinstating a lower tax rate for small c-corporations
Extending the current estate tax exemption thresholds and planning tools, specifically step-up in basis
Advocating for taxpayer services and robust oversight of the IRS enforcement expansion
LABOR
NFIB opposes expanding burdensome employment mandates and overzealous regulatory enforcement on small business owners.
NFIB Opposes
Substantially increasing the federal minimum wage and mandating paid leave
Overturning longstanding employment laws by passing bills such as the Protecting the Right to Organize (PRO) Act
Curtailing the use of Independent Contractors and preventing the right of non-employers to contract independently
Significantly increasing the overtime exemption threshold for salaried employees
REGULATORY REFORM and BURDENSOME REGULATIONS
NFIB supports proposals to reform the regulatory process by strengthening small business input and increasing transparency and accountability. NFIB opposes adding new regulatory burdens on small businesses.
NFIB Supports
Regulatory reform proposals, including the Small Business Regulatory Flexibility Improvements Act, the Guidance Out of Darkness (GOOD) Act, the Guidance Clarity Act, the Independent Agency Regulatory Analysis Act, and expanding Small Business Advocacy Review (SBAR) Panels to all agencies
NFIB Opposes
The Corporate Transparency Act's (CTA) new Financial Crimes Enforcement Network (FinCEN) reporting requirements beginning January 1, 2024
The Environmental Protection Agency's (EPA) expanded Waters of the United States (WOTUS) rule
The Securities and Exchange Commission's (SEC) proposed greenhouse gas emissions reporting rule, also known as "Scope 3" reporting
Saddling small businesses with additional regulatory and paperwork burdens related to data privacy
HEALTHCARE
NFIB supports affordable, flexible, and predictable health insurance options for small business owners and their employees.
NFIB Supports
Empowering small business owners and employees by revising and expanding the Small Employer Health Insurance Tax Credit; expanding access to Health Savings Accounts (HSAs); and equalizing the tax treatment between employer sponsored health insurance and individual coverage
Increasing health coverage options by permanently expanding Individual Coverage Health Reimbursement Arrangements (ICHRAs) and authorizing Association Health Plans (AHPs)
Promoting healthcare affordability through greater price transparency, more competition, and unleashing innovation
COMPETITION
NFIB supports commonsense legislative solutions that seek to provide small businesses a level playing field against big business anticompetitive practices.
NFIB Supports
Increasing credit card network processing competition
Ensuring fair competition and accountability on online marketplaces for small businesses and consumers