WASHINGTON, D.C. (May 23, 2022) – NFIB Vice President of Federal Government Relations Kevin Kuhlman appeared on C-SPAN's Washington Journal this morning, where he discussed how rising inflation and labor shortages are impacting small business owners, and what steps the Biden administration and Congress can take to help small businesses.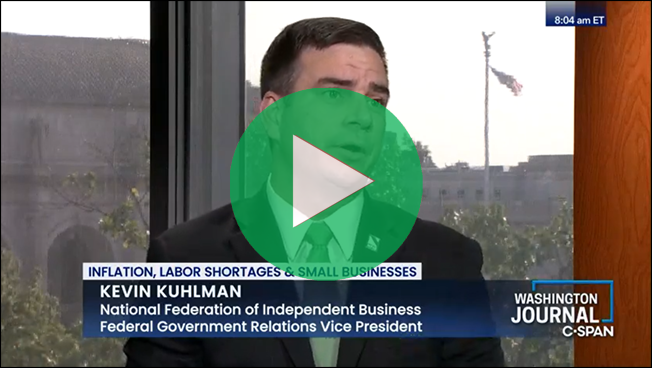 On Inflation and issues impacting small businesses: "Small businesses are flashing yellow warning lights. The small business half of the economy is extremely important to the economic recovery. Our research shows that inflation is really taking its toll on small businesses. It's the top small business problem for one-third of small business owners – a year ago it was low single digits. That's in addition to workforce shortages, supply chain disruptions, and it's really concerning that as our research shows, expectations for better business conditions in six months it's the lowest it's been in the nearly 50-year survey."
On what steps the Biden Administration and Congress can take to help small businesses: "The message is this: Do no harm. Any policy should be evaluated as 'how will this impact small business optimism?' and 'how will this impact consumer confidence?' and 'Will this have negative impacts on these problems, inflation, workforce shortages or supply chain disruptions?'"
View the full interview via C-SPAN here.