State Rep. Daniel Bonham of The Dalles singled out for going above and beyond
FOR IMMEDIATE RELEASE
Contact: Anthony Smith, NFIB Oregon State Director, [email protected]
or Tony Malandra, Senior Media Manager, [email protected]
SALEM, Ore., Aug. 30, 2022—The state's leading small-business association today released the names of its Guardian of Small Business Award recipients for the 2021 and 2022 sessions of the Oregon State Legislature.
Rep. Daniel Bonham was selected by NFIB's Oregon Leadership Council to receive a prestigious Guardian Award statue (photo below), recognizing his 100% voting record and his above-and-beyond commitment to Oregon's Main Street entrepreneurs. All honorees will receive a certificate.
"While each of these state legislators has earned the right to be called a Guardian of Small Business, Rep. Daniel Bonham deserves special recognition," said Anthony Smith, Oregon state director for the National Federation of Independent Business (NFIB), the nation's leading small-business-advocacy association. "Whenever there was a fight to be had, Rep. Bonham was in the thick of it, fighting for Oregon's small businesses. Whether shepherding bipartisan legislation to provide unemployment insurance tax relief or opposing controversial new labor costs on Oregon's agricultural employers, Daniel Bonham has been a small business stalwart."
Guardian of Small Business Award recipients:
Oregon State Senators
Sen. Dick Anderson (R-Lincoln City)
Sen. Lynn Findley (R-Vale)
Sen. Fred Girod (R-Stayton)
Sen. Bill Hansell (R-Athena)
Sen. Bill Kennemer (R-Canby)
Sen. Tim Knopp (R-Bend)
Sen. Kim Thatcher (R-Keizer)
Sen. Chuck Thomsen (R-Hood River)
Oregon State Representatives
Rep. Daniel Bonham (R-The Dalles)
Rep. Shelly Boshart Davis (R-Albany)
Rep. Vikki Breese-Iverson (R-Prineville)
Rep. Jami Cate (R-Lebanon)
Rep. Cedric Hayden (R-Roseburg)
Rep. Bobby Levy (R-Echo)
Rep. Rick Lewis (R-Silverton)
Rep. Raquel Moore-Green (R-Salem)
Rep. Lily Morgan (R-Grants Pass)
Rep. Ron Noble (R-McMinnville)
Rep. Mark Owens (R-Crane)
Rep. E. Werner Reschke (R-Klamath Falls)
Rep. David Brock Smith (R-Port Orford)
Rep. Duane Stark (R-Grants Pass)
Rep. Kim Wallan (R-Medford)
Rep. Suzanne Weber (R-Tillamook)
Rep. Boomer Wright (R-Coos Bay)
Rep. Jack Zika (R-Redmond)
Senators and representatives were scored on seven votes in each chamber taken during the 2021 and 2022 sessions of the Legislature. Those voting for the NFIB position more than 80% of the time received a Guardian award, a nationally recognized accomplishment reserved for legislators and congressional representatives who vote consistently with small business on the key issues identified by small-business owners.
Keep up with the latest Oregon small-business news at www.nfib.com/oregon and follow us on Twitter at @NFIB_OR
###
For nearly 80 years, NFIB has been advocating on behalf of America's small and independent business owners, both in Washington, D.C., and in all 50 state capitals. NFIB is a nonprofit, nonpartisan, and member-driven association. Since its founding in 1943, NFIB has been exclusively dedicated to small and independent businesses and remains so today. For more information, please visit nfib.com.
National Federation of Independent Business/Oregon
1149 Court Street NE
Salem, OR 97301
503-364-4450
www.nfib.com/oregon
Twitter: NFIB_OR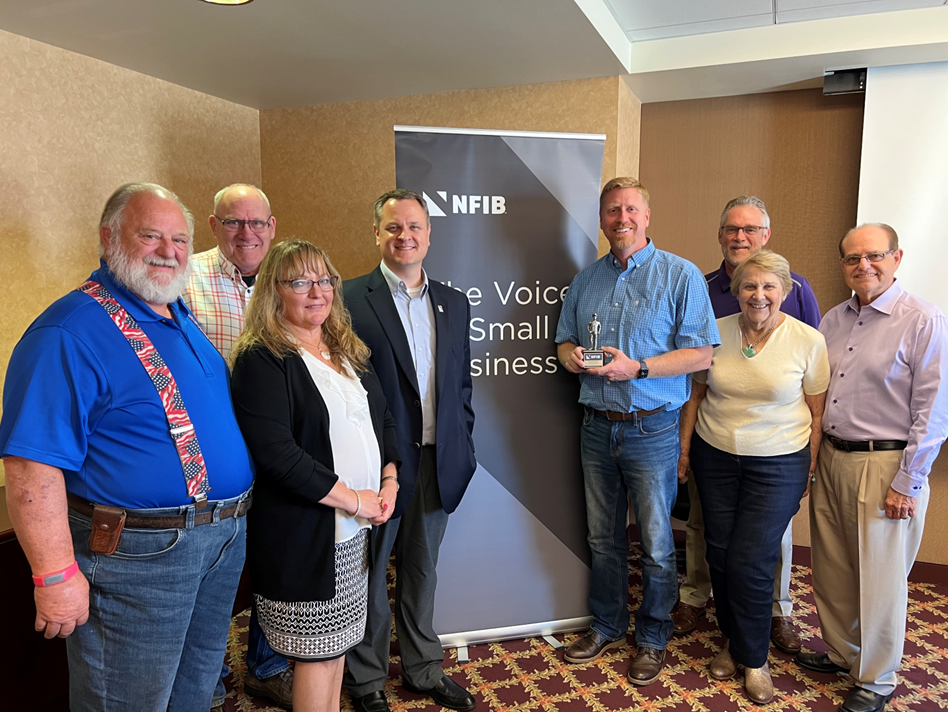 State Rep. Daniel Bonham receiving his Guardian of Small Business Award statue from the NFIB Oregon Leadership Council