Omaha congressman took NFIB up on its national offer to elected officials
NFIB Nebraska thanked Congressman Don Bacon for rising to our Small Business Challenge on August 12 in Omaha. Although Congressman Bacon has a 100% NFIB voting record in the 117th Congress, he still took the NFIB Small Business Challenge.
The idea behind the Small Business Challenge is for members of Congress to work at an NFIB member business to see what the experience is really like. They quickly learn that a small-business owner takes on nearly every role at the company, and that a small business isn't just a smaller version of a big corporation.
"He didn't really need to do this," said NFIB Nebraska State Director Bob Hallstrom. "He's got a stellar, pro-small-business voting record in Congress and fundamentally gets our issues. The fact that he believes in constantly adding to his store of knowledge shows what a stellar public servant he's been for our state's Main Street enterprises."
NFIB also thanked member Tim Rexius for making his Rexius Nutrition warehouse in Omaha available for the challenge. Rexius started his business from a firm belief in the importance of nutrition and from a disappointment with "what the industry had to offer as far as a retail experience being that most stores were extremely overpriced in comparison to the internet and a general lack of knowledge by the sales associates in the stores who seemed mostly concerned with the selling of the store brand," according to the company's website.
Congressman Bacon learned while working with Rexius about the challenges the small businesses have in keeping shelves stocked and customers happy while supply chains are strained, inflation is up, and good labor is hard to come by. Another challenge Rexius Nutrition deals with is competing with foreign made goods through the Amazon marketplace. Much of Big Tech is making it harder for companies like Rexius Nutrition to compete on the online marketplace. That is why NFIB asked Congressman Bacon to support the American Innovation and Choice Online Act.
Following his hands-on experience, he spoke with other area NFIB members and heard about the worries they have with the expansion of the IRS while they are still subject to loads of regulations coming out of the pandemic shutdowns that placed favoritism on larger corporations over local small businesses.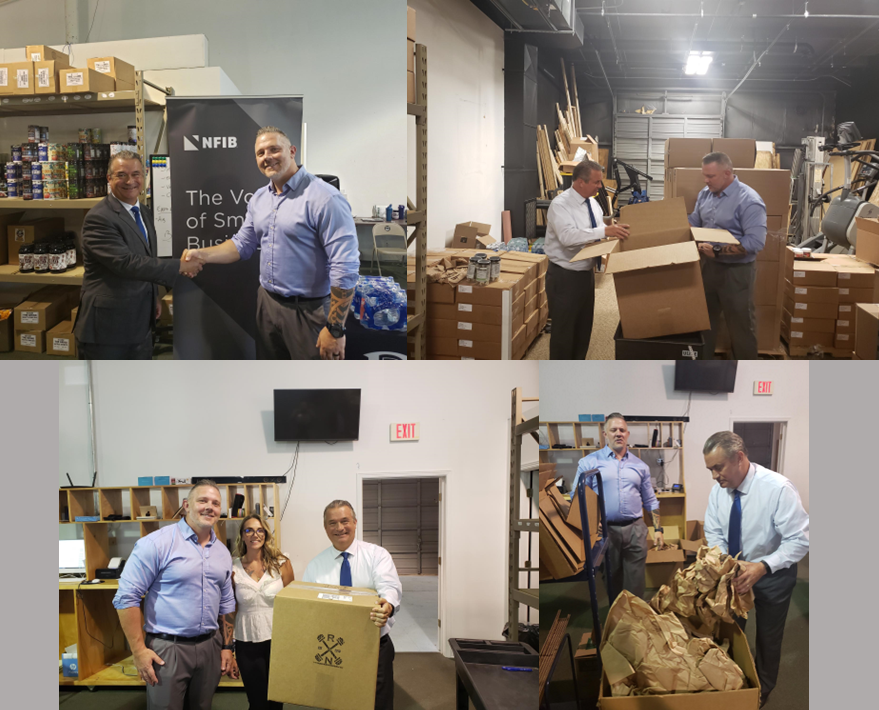 NFIB member Tim Rexius puts U.S. Rep. Don Bacon, in tie, through the Small Business Challenge.