NFIB, the state's leading small business association, completed a survey of small business owners from across the state of Ohio on several economic issues. The results of that survey show entrepreneurs, while still struggling with issues of hiring and broken supply chains, are seeing inflation now as their largest threat. Almost half of Ohio small businesses find the issue most concerning to their business is inflation, however, a combination of these three economic challenges has caused eight out of ten to raise their prices, 40% raising them a significant 10% or more.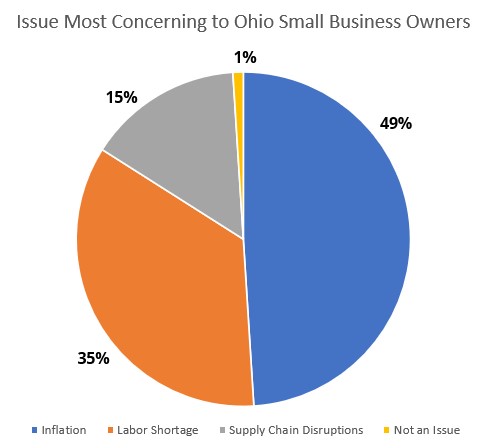 Even as unemployment rates seem to be leveling, staffing shortages are continuing to have a negative impact on Ohio small businesses. Seventy-two percent are having staffing issues, with over half saying it is a very real problem. Because of staffing issues, nearly two-thirds of owners report they have seen lost sales opportunities. Additionally, one in three have had to alter their operations due to a lack of employees. One-third of small business owners say they are personally having to work more hours to compensate.
When it comes to these hiring issues, small business owners are finding the number one reason is applicants do not have the skill sets necessary (28%), secondly, people are simply not applying (18%), and thirdly, previous workers have not returned from the pandemic (13%).
Supply chain issues for 70% of those answering the survey are having a moderate to a significant impact on their businesses, almost three quarters indicate that it is costing them sales opportunities.
Nearly 90% of respondents to the survey indicate the cost of motor fuel is now having an impact on their businesses, and for one-third, the impact has been significant. Increases can also be seen in labor costs, material costs, and inventory costs.
"Ohio entrepreneurs are seeing hiring issues compounded by supply chain issues and on top of that sky-high inflation. All these issues combined are dramatically increasing their costs, and these costs cannot, for a number of reasons, all be passed on to consumers," said Roger Geiger, executive director for NFIB in Ohio.
"If there is one important message to all policymakers it is that now is not the time to be adding any additional government mandates, raising business taxes or fees, or creating impediments to hiring. While small business owners are usually optimistic, this survey shows they are facing significant economic challenges even while not yet fully recovered from the two years of the pandemic. If Ohio's small business community falters, so will the entire state's economy," Geiger concluded.