NFIB and Visa brought their Small Business Economic Roadshow to Nashville on Sept. 28. The event was held in a meeting space at the offices of the Tennessee Bankers Association.
Holly Wade, executive director of the NFIB Research Center, and Michael Brown, principal U.S. economist for Visa, briefed small business owners on a number of key issues including inflation, the labor shortage, and supply chain disruptions.
Brown (pictured below) said a recession is possible but predicted it would be shortlived and that the tight labor market would make businesses reluctant to let workers go.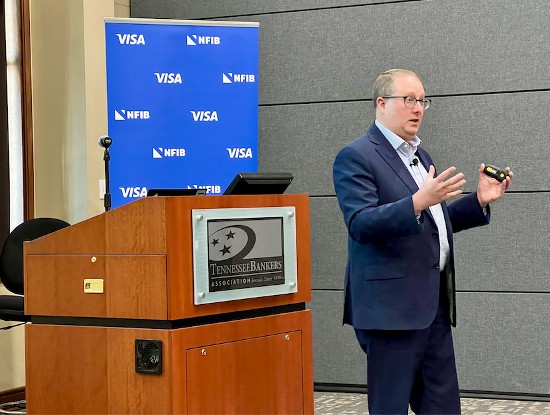 Wade told attendees that rising interest rates would continue to have an impact on small businesses, especially in the housing and construction sectors.
The roadshow also included a panel discussion by NFIB Tennessee Leadership Council members Missy Acosta of Delta Dental, David Hornsby of Executive Parking & Travel in Nashville, and David Berggren of Furniture Connection in Clarksville. They offered their advice on starting and running a successful small business including the need to plan ahead and maintain good relations with their lenders.